I'm laying on a sun lounger looking up at a hotel haha
And yep it is
Looks like the last thing you saw after falling from the top
Bit of a shame ended up seeing my first (non-friendly) Barca game before Arsenal, but loving these seats!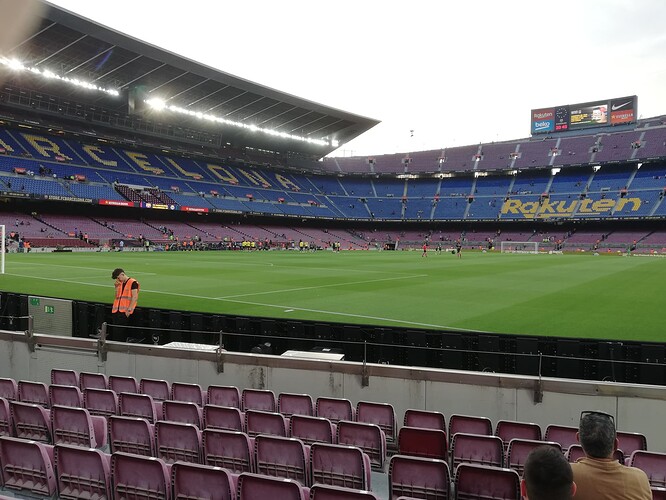 Excuse me what where can I get this
This was in Spain, but no idea how common it is.
First time I've seen it anyway!
Those are excellent seats. Barca fans go nuts in that section, or at least it seemed like it when I was there
Quite a few European countries do this. I saw it in a Munich one. We obviously don't because the carnage would be off the scale. Brits are defo the type to get drunk in McDonalds.
Had lager in Burger King in Moscow.
You can have a beer in a bakery in Portugal
Yeah, this blew my mind slightly when I went to Valencia a few years back. The novelty was too much not to make a couple trips lol
It quietened down after Auba missed three big chances and Adama did a 'perfect' cross to his own penalty area for the opposition to score an easy goal, but it started that way

To wrap up the Portugal trip. I went to the bookstore @Jesseviolin recommended. According to the cashier it's the oldest operating bookstore in the world. How about that!
Depicted above is the bookstore Livraire Bertrand.
Some lovely shots there. How'd you find the whole holiday in general? Worth the visit?
Yeah for sure! We loved staying in Sintra, which is full of castles and beautiful lush forests and very hilly. Later on we stayed more land inwards amongst some farm animals which was a fun experience. Lastly in Lisbon and we really liked the city but we were there quite short so definitely going back to see more of it.
We also want to go to the south to see the Algarve which is supposed to be really beautiful coastline of Portugal. And the north which is closely related to Galicia (northern of Spain).
There is everything you want. We ate in a 5 star hotel near the quinta regaleira castle. And a few days later ate pizzas outside on a bench with a view over the Lisbon harbour. If you aren't vegetarian then there is a lot of great meat food and especially the Portuguese pirri chicken at local churrasqueiras was great for us.
Definitely can recommend!
London is the best European city for a Tourist, an all round destination in respect of most facets
Does it still count as European? Documentation wise?
Doesn't have the same status as EU nations but document wise it's lumped in with other developed nations like Canada, Japan & USA in terms of gaining (relatively) simple entry for holiday purposes
Anyway, I am surprised to know that London is the best city for Tourism. There are facets where I thought it falls short.
For outdoors, you can't beat some of the cities which are close to Alps. Mountain biking, Trekking.
Milan has the glamour of the city, yet close to some amazing lakes, Dolomites to North West, Alps to the North, 2-3 hour drive to beaches, 4 hours to Bologna-Florence for some art.
Maybe England does have all that but just doesn't market it that well.
Based on whatever research I did, I feel Munich is perfectly placed to do whatever you feel like.
Fair, I don't really consider the generic tourist coming to Europe for a City break seeking outdoor activities. That's kinda a different subset really, which leans heavily to France, Italy and Scandinavian nations
I actually agree the UK doesn't do a great job of marketing AONB domestically let alone to international tourists.
Interesting you mention Munich, I think the only reason I'd visit for leisure is for Oktoberfest, otherwise there really isn't much going on that would warrant fo trip for more than 2 days tbh
You could spend a week in London and not really hit on 50% of the stuff to see or do, imo