DH said it was good to have you back, I think it might have been that
Oh okay. Yeah @BizzySignal had covid last week. Few rough days but clear now.
Took a few days out of posting.
Damn mate, hope your all good now. I had no idea. How you feeling now?
@JakeyBoy on point as always bro, I come across some of the threads later and sometimes reply to things with it looking at the date


Fine now mate. Took an extra week off work as last week was a holiday and they wouldn't grant me it back. So basically fuck them.

Worth a watch Stroller ?
I watched the Maradona documentary about his time in Italy and that was brilliant, way better that I would have imagined. What a player .
Yeah definitely worth a watch. 1hr 48.
Good to hear mate. Hopefully you stay well now.



Damn, that news passed me by, glad you're on the mend mate

The greatest comedy show ever made. Love how you can always laugh at something new when you listen to their incoherent shouting. Just so many things to appreciate on rewatches.
Deplorable human beings who you should despise but you love with such affection. Makes you want to become a degenerate like them
Bottom is the greatest comedy ever made.
Sinnerman has had an absolute mare here hahaha
Haha was surprised he's the best aswell I think

I read a report last year where they had added up/analysed all the shows and Anne had the best success rate
For me it's only show in the last 10 years that didn't manage to dissapoint me, the only show I never managed to get tired of. I don't watch too many shows tbh (barely anything besided IASIP)
Even when they make bad jokes, kinda forced at times, and they do that often, or even having weak episodes… too often they manage to develop some absolutely hilarious, ludicrous episodes or scenes that just blow your mind, the stuff no one else even tries. They're just exploring those dark, damp corners of the sewage of our mind and existence and that's makes it so fun.
Oh shit fella
Glad you are in the mend .
The Chase - just watching this and can't quite remember the question - however name a cribbage hand, answer is 'one in the nob'



And the Marilyn lookalike has just got through with £57k lmao


@JakeyBoy @Calum
'Behind her eyes'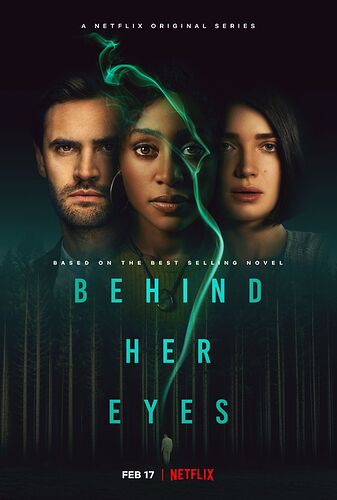 A psychological thriller about a psychiatrist (Tom Bateman), his lonely troubled wife (Eve Hewson Bono from U2's daughter) and a lonely single mother (Simona Brown).
The series is on Netflix and starts out with the couple having just moved to town. The psychiatrist and the single mother (who happens to be his new secretary) embark on an affair, before the lonely house wife befriends the single mother and the love triangle is completed. The majority of the episodes focus on the relationship between the three and the strange way the husband and wife are towards each other. There are plenty of twists and it starts of as very layered story which slowly reveals its self to the audience, with little snippets into each of the characters lives, their pasts (through flashbacks) and interactions with each other. Keeping you guessing as to why and how events led to the current dynamic. It can be predictable at times however it is a very engrossing and interesting story up until the final two episodes where the writers take the programme in a completely different direction, and it goes from being a some what realistic psychological thriller to some ridiculous panto paranormal horror movie.
I'll save you guys some time and say that you should totally avoid this unless you want to waste 6 hours of your time, the absolutely wacko "twist" ending completely ruins the whole series and the story. The final two episodes plus the ending are so bad that I would personally consider it one of the worst endings of any TV series or films I have ever watched, it's not even one of those endings were you can say "Well it finished badly but the other episodes were good", the ending goes back retroactively shits on the rest of the episodes, making it unwatchable a second time. It's so out of left field And so ridiculous that it feels insulting to the viewer. Like I can't believe I've wasted 2 of my free evenings on this stupidness, FUCKING vexed.
Only positive is the The acting is brilliant especially Eve Hewson who plays her character so well that you would really think her and her on camera persona are one and the same.
1/10
Eve Hewson was on The Knick I think. She's a good actor.