He did address it. He got Perisic who has been awful.
I'm "Conte in". He'll be blaming the kitman for their slump soon. Great entertainment.
5 wins and it's St. Totteringhams Day.
A+ rant from Conte. Absolutely shat on Tottenham as a club. All that was missing was 'Spursy' or repeating the iconic Chiellini phrase about the 'istory.
Hoping he stays until the end of the season. Need them to be as miserable as possible.
I don't think there's anything more satisfying than Spurs fans jizzing their pants at serial winner Conte joining their club, and then serial winner Conte self-destructing because even he can't change the loser mentality.
He's thrown in the towel lol.
That press conference was wild. Absolutely went to town on Spurs. Insulted them to the core.
Fucking beautiful.
The meltdown on their subreddit is worth the price of admission. Highly recommend it.
Harry Kane is definitely not staying.
The squad was near it's peak and now that Son lost his edge, the squad will go downhill from here on and it will get more toxic.
He might if they make him player manager.

But Chelsea are desperate for a striker that scores goals, so Kane would be ideal for them and they're also stupid enough to pay whatever spurs are asking.
Chelsea have one of the best goal scorers in Europe over the last 10 years but they've had back to back managers who don't favour strikers.
What they need is a new manager who can actually extract more out of what they've got. No reason Lukaku can't be a 20+ goal striker for Chelsea
Remember when these Cunts pipped us to 4th, it was the 'same old arsenal' and 'only up from here' for spurs






Wait for it . . .
Love these vids! But Spurs were asking for it with Conte. He always rocks the boat when he doesn't get what he wants. But what makes it so funny this time around is that he tells it like it is there.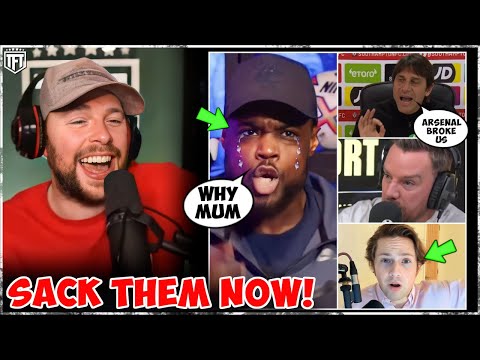 With Potter at Chelsea and Conte at spurs both looking like they've lost the dressing room, it'll be a shame to see both clubs get new managers.
No he didn't but unfortunately he has lost the press room as well now.
Twitter is an unforgiving mistress. Nerd is the word.
I've seen the term "twitter nerd" pop up a lot on here and I'm still not sure what it actually means? Is it supposed to mean people who like stats? Or people who use Twitter? Because there are definitely people who use Twitter who can't count to ten let alone understand advanced metrics. Or is it some sort of attempt to take a jab at people who like stats because proper football men don't give a shit about numbers, they yell and throw teacups and trash their own team in press conferences like Conte or get insane red cards on the touchline like Marco Silva.
And to be clear, I hate stats because I'm too stupid to understand them. But since you've used the term a bunch I just want to know what you think a Twitter nerd is.
People ignoring simple metrics. Like using their eyes.
Stats are about key marginal gains for coaches. Football fans are out the depth with the things and just try to interpret things that aren't there.
I think that's a bit harsh. There are some really smart people out there who do interesting things with stats. I don't always appreciate it because I'd rather admire a through ball than hear about packing stats (yes, that is a real advanced metric, I did not make that up).
honestly that rant from Conte was amazing, the guy absolutely destroyed everything about the club and summed up Spurs right down to the core, they are Spursy (always have been and always will be) in the best perioid they had at the club and all they managed was to finish 4th and no trophies whatsoever and now Son is nowhere near that level anymore and Kane will probably be gone in the summer