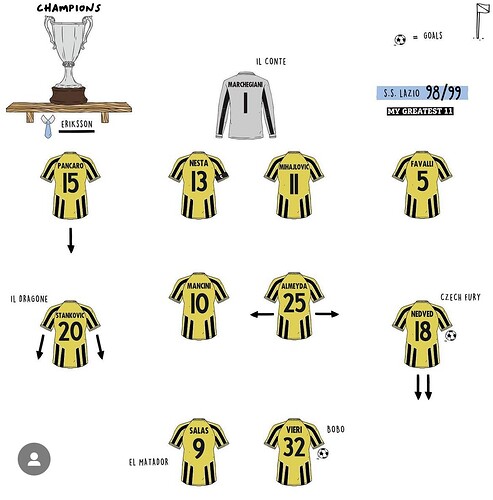 The last ever CWC winners. What a team playing in the third tier European tournament!
Football has changed lol
Salas and Stankovic two players I really liked at the time, hoping either or both would come to Arsenal or Napoli but I think Arsenal at the time were fairly well covered in those positions.
It's unlikely any England player will break his record of goals per games and he did it in an era of fewer friendlies and no substitutes.
There were not many better strikers in Europe when he was playing.
The greatest goal scorer the game will ever see .
Can you imagine how many goals he would be scoring if he played now ? He would be getting 60 plus goals a season .
He's got good poise and balance. Not the rugged striker you'd associate with that day and age.
Was it Pierre Papin ? The French striker he was spoken about in the same levels as Greaves .
I remember a Saint and Greavsie show where JG was interviewing him and discussing goal records .
Yeah Jean Pierre Papin. Great striker.
The partnership he had with van Basten at Milan…wowzer
That's the bloke !
Neither Greaves or Papin were as deadly as I was from two yards with school playground toe poke. I was lethal son .
Jumpers for goalposts

Most of those tackles would be red cards in the PL.

I swear, even for back then, one yellow card is wild haha
Iconic game, decided by two pieces of magic by Kanu. He has to be one of the most naturally gifted players of the last 30 years or so. Freak.
I'm sure Nigeria done Argentina in the same Olympics.
I can remember watching that one.