Favourite piece of English language commentary to this iconic goal?
Barry Davies
Jimmy Magee
The two best pieces there.
I work with someone who went to this game. He won't acknowledge the goal because of the first one and just calls him a cheat.
Imagine seeing that goal and not dining out on it.
The first goal was definitely a cheat.
the second goal, one of the very best in World Cup history.
Bit before my time and only really remember him for the Italia 90 incident. Interested to know how the older lot on here would rate his career and where he'd rank amongst the best.
One of the best (West) German strikers.
Rummenigge score 45 international goals in 95 appearance, and Voller scored 47 in 90.
KHR was like a dagger in the box (Gerd Muller was not my generation), but Voller was more skillful and elegant IMO. Somehow I like Klinsmann (40 in 82) more because of his athleticism and passion.
KHR and Voller were "too cool".
If Gerd Muller is God, KHR, Voller, Klinsi and Klose are in the next tier.
Strong in the air and physical player but also good with his back to goal.
Big personality and mainly remember him at Roma.
Classic target man.
I would say he got good header but not quite good "in the air", like Klinsi, Bierhoff, Riedle and Klose
Strange with him as he didn't have much of a career in Germany.
He moved to Rome very early
Hit a ball could Staunton
Quite the team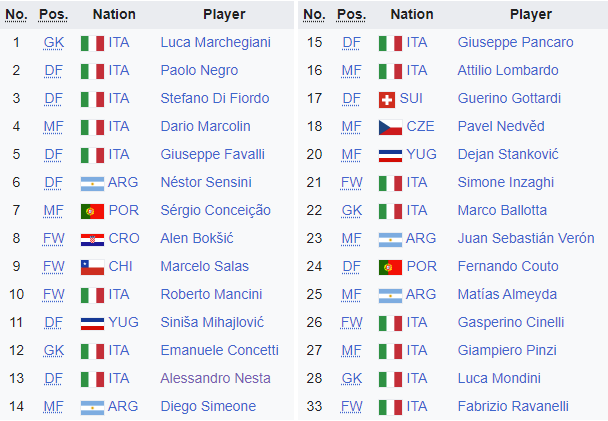 Omg it's the whole game lol. Thought it'd only be the highlights.
Ahead of this game, Wenger was a bigger, stronger favourite to take over the England job than Sven (manager of Lazio at the time)
Would of made a ton of sense at the time. Definitely a missed opportunity.
Wenger had some strong results against big Italian teams.
Lazio, Roma, Juventus, Inter* all conquered by him. And then Milan at the San Siro in what I think was 2008.
Fiorentina aside, he had a good history against the best teams from Italy when Serie A was Europe's best league. Yet he never had any actual European success. I wonder why he wasn't able to take the team further in Europe?
Probably just didn't have the pragmatism required to succeed in Europe at the time and the season he did he got us to the final.
Edit: added Inter thanks to JakeyBoy
Can't believe you gave Inter a pass considering that CRUSHING 5-1 defeat we handed them at the San Siro

(We ignore the slightly earlier fixture at Highbury)