Absolutely!
Gives you a reason to go out rather than the indecision of where to go and what to do
New years eve has to be the most overrated day of the year no matter what country you live in.
I dunno if it is over rated. All I hear these days is people complaining about it.
NYE isn't even a bank holiday, so nothing stopping people doing what they usually do each day and going to bed when they want.
It's what I mean by overrated, it's the idea that you feel you need to be celebrating something or partying without having to be labelled a bore by everyone else. Well it applies to me anyway lol
I think I'm inclined to agree. Its the reverse-Michael Carrick effect, back in the day everyone banged on about him being underrated and praised him to high heavens so much that the script flipped entirely and he almost became overrated as a result.
Closest I've been to is a 5.30pm KO at the Hawthorns on NYE
Not a bad fixture list coming up on paper.
Time to go on a winning run which defined Liverpool and city in recent years?
Opposition fans "wtf why do arsenal always have an easy schedule"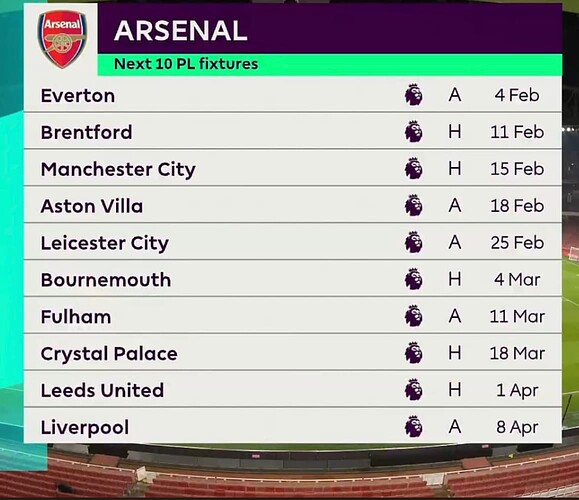 Hopefully Everton at home slotted in somewhere…
That would be only 2 of our next 11 league games against the traditional big 6… would be a good opportunity for us to maintain our buffer over City until April and match day 30.
go and win them all, this is our Arsenal
The other thing to consider with that list is Europe returning and also possible future FA Cup games
Our record in the last 4 PL matches is a bit mad.
We got 10 points out of Brighton (A), Newcastle (H), Scum (A) and Man Utd (H).
Could've been 12 points with some proper refereeing and luck against Newcastle.

From the current Top 6, we've played Man Utd twice, Spurs twice, Brighton once, Newcastle once and City none.
We got a hard runin.
Would be amazing to have a nice gap until then.
My main fixtures I fear: City both games and Anfield.
If we can make it out of those then



I want to be 10 points clear when we go to Anfield.
Its not that unrealistic, especially if we have our game against Everton rescheduled into this period. During this stretch City have Liverpool and Newcastle (both home though) and Spurs away.
That six game stretch from away at Liverpool on 4/8 to away at Newcastle on 5/6 is so brutal we need a big cushion going into it, even more so if we advance into the Europa League quarterfinals which will be right in the middle.
Given the gap, City are the ones that will have to come to the Emirates and go for the win. A draw doesn't help them.
We should set traps and kill them on turnovers. Simple game plan that City have proven themselves to be vulnerable to many times.
A draw is absolutely fine too, if it came down to that. Maintains the points difference. If we avoid defeat in that game then we're all the way to game 29 before the tough trip to Anfield.
We have a real opportunity to go on an undefeated run all the way through to the beginning of April.
2 games in three days is mental
A lot can change between now and April, but if we were going to Anfield this weekend I'd fancy us to get all 3 points.
Why do we always play Newcastle away in May ffs

Its really too bad we didn't get them or Chelsea early in the second half of the season. Feels like both squads will be a lot healthier and considerably better by April.
Yeah I was thinking this the other day.
Although pending on situation both clubs top 4 chances could be all but gone then and they could be focusing on champions league if they're still in it.