Normal service resumed.

Josh Dobbs instant fit in Minnesota.
The idea of an NFL team possibly having their franchise quarterback falling into their lap by chance is a concept that is totally alien to us Jets fans.

Lamar pick six killed the game. Ravens went full Spurs today.
Bengals were pathetic on defence. Was expecting more of a game. Thought Burrow was healthy now. But he needs that defence to get some stops too, but they didn't manage any last night.
The bears coaching is going to ruin Caleb Williams.
Oh well, hurry up and trade fields so I can enjoy him in an actual sensible team.
Looks like we're going to need someone else to save us in the SB, chiefs have the eagles number.
Hahaha or NOT


I'll just make sure to slag off the eagles again next time then go to bed

Fly Eagles Fly

9-1
Needed this win with the upcoming schedule.
Such a stressful team to watch at times.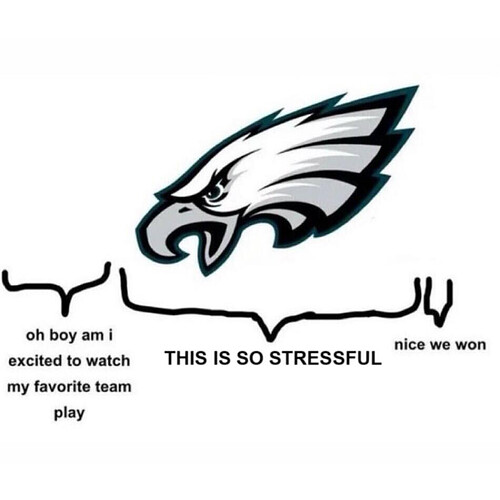 It's rare you find a clip that just so perfectly captures everything you need know about a franchise but this is it.
Even when they're good, the Detroit Lions never fail to ruin Thanksgiving for their fanbase.
Big win for the Packers and Lions now 8-3. That's good for my Eagles. Good game to watch.
Wish the cryboys were being televised on sky max as well instead of sky sports. oh well. Really hoping Sam Howell has a big game and the Commanders can get the upset, but doubt it with it being in Dallas.
That's why I still can't take the lions seriously, two weeks in a row now they've almost or actually choked to bad teams.
They won't even make the NFC game imo.
If matt eberflus wasn't the Illinois Emery, they'd have lost 2 games in a row
NYJ making a case for the last ever Black Friday Football.
OMG
Pick 6 on a hail mary, yikes
Echolls momentarily giving me cause to reconsider my previous post, but judging from the final play of the first half, I'm sticking to my guns.
It's (American) footballing heritage. They're such a joke.
For the most part, I've been spoilt over the years when it comes to supporting The Arsenal.
I quite enjoy being a "fan" of another team that I can hate-watch, ridicule and beat up on. I love a bit of variety.