Pastry or potatoes just confuses me even more now.
I'll stick to beans on toast.
When I eventually get some time at home, I enjoy cooking different variaties of Asian food, gyōza/ filled dumplings/sushi, but my absolute favourite is this.
Vermicelli rice noodles, market packet miso soup, chicken thighs with the bones taken out to make a quick stock then added to the miso soup, loads of veg, Thai basil, mint, coriander, sesame, the crispy chillies and Peanuts in oil, get a good sweat on after a bowl of that, so much flavour in it too.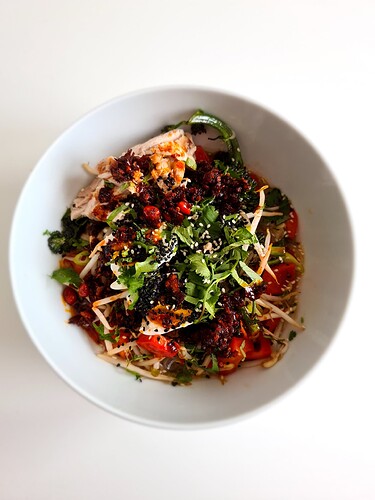 @Joshua or any weird Americans
Is biscuits and gravy as disgusting as it sounds? And why do Americans think that dish is a good idea?
You're better off asking someone who isn't a coastal vegan elitist.
My brother went to college in the midwest where that was a big thing — along with enormous portion sizes and people in general.
It was some sort of pork based gravy on top of a biscuit (not one of your biscuits, which we call cookies. Our biscuits are more like a crumbly roll that sucks all the moisture out of your mouth which is why you need the gravy.)
My brother used to order it for breakfast or a late night diner meal. It's probably pretty good when you're drunk or hungover.