None of them. I'll go for Grealish when he signs, though.
Never played this before can you just put the whole Arsenal squad in? If so will just make a team of arsenal players see what happens
No. Max of 3 players from each team
There are a few decent value players.
Maddison 7m
ESR 5.5m
Pepe 7.5m
Grealish 8m
Buendia 6.5m
Bissouma 4.5m
Raphino 6.5
Banford 8m
Rice 5m
Greenwood 7.5
Lingard 7m
I might wait until Arsenal buy Grealish and Maddison so they will be cheaper.
Also Rice will probably go to Chelsea and Lingard to West Ham so it might be worth getting them before their prices go up.
Players to avoid:
Werner 9m
Any Watford attacking players
Any spurs players
I've done better since avoiding Arsenal players, especially this season. Only really had ESR for budget value bench. It's also better for my sanity to not have Arsenal players to worry about.
I'm going to smash Fantasty Football this season…can't wait
Anyone set a team up?
Not in club mood currently haha will do mine after euros
Nah it's far to early to do it once the euros are done will start looking at setting up a team then
I've renewed the league so anyone who was in it last year has been automatically re-entered
First draft of summer 2021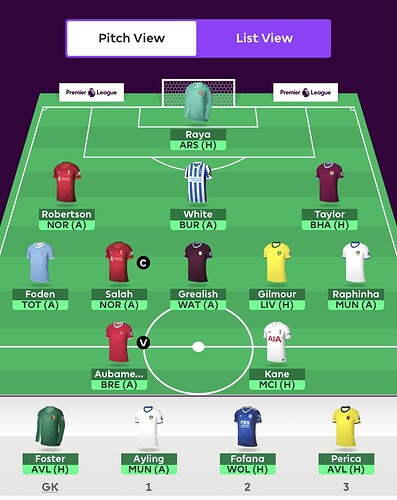 Billyesta hopefully is a first teamer for the canaries
Aubameyang back to being a striker then, after his year away in midfield, can't they make their mind up?

Weird seeing Brentford on the site as well.
Hard putting a team together as some from the Euros will likely miss first couple of games, and not sure how many will be at Olympics. I'll probably be wildcarding in week 3.
Also, anyone seen how many fucking forwards Watford have?! They're going for a 0-0-10 formation.
That looks a decent team. I was considering White too. Figured if he joins us he'll probably play every week, so you'd have a 4.5m Arsenal defender.
If he joins Arsenal I might sell him


Haha really? You're probably better off with Lamptey then, if you want a Brighton defender. More chance of attacking returns.
I see Dallas from Leeds has switched to midfield

Need to find another defender who really plays in midfield
I like the way you have two Brentford players who are playing us in the first game.

I'm going for Chelsea defenders and Man City attacking players, especially if they buy Kane or Grealish.
Liverpool players like VVD, Robertson and TAA usually do well and Grealish, Buendia, Dallas and Maddison look fairly good value.
Any Man City or Liverpool defender or Shaw.