He's Spurs, why are we saying nice things about him?
so, where did he play for Juventus and Spuds so far??
RW


Did you see what I sent? He played 8 different positions at Juve.
Playing for Juventus and spurs is like having memberships to both the Stalin and Hitler fan clubs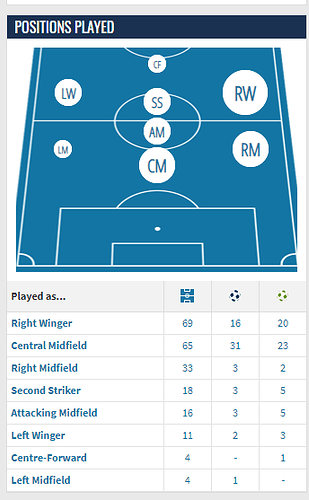 Numbers is one thing, did you see him ever interchange with anybody when playing RW?
He rarely goes into middle.
If he is really that (versitile), actually he would have a lot of opportunities, not just being a "RW"
Yes. I was big on him from the get go when we were linked with him.
Actually those stats show that he has played the majority of his time in positions which are not on the right wing or right of midfield.
Played up front for the national side plenty of times and also in Atalanta. He's usually played as a LW for Sweden though, since the national team manager fancies Claesson on the RW (for some reason) and Forsberg more central.
Bastian Schweinsteiger started as RM and played lots of time there.
Did he play good?? I would say Mehmet Scholl (even Deisler) was better. Basti was so and so
Till he found his position in CM, he finally shined.
Kulu is just a young player… the stats only show a few seasons of his career.
He spent some time as a CM (or wherever) not necessarily means he was good there, or he could play 4, 5, 6 or 7 positons.
From these 2-3 seasons we have watched, he is surely an attacking player, and mainly on the right.
Maybe you and GG can show me what kind of attributes he possesses that would make him a good CM? Or versitile enough to actually play all 4 attacking positions? Is he a good/great passer? Having good vision? I don't know.
Still, he is a good player
Or AM?
About Kulu btw, despite his lack of pace, he really makes it up with his intelligence. Not the guy you expect to thrive in counter attacking football but he does.
That chance he set up for Perisic in the second half was perfect. My commentator was screaming for him to pass earlier but he waited long enough for the defenders to be dragged by the forwards and gave Perisic a tap-in that somehow wasn't converted.

.
Unfortunately that article seems to be basically saying that Kulu might not hit the numbers necessary for the obligation to buy, in which case its only an option, and with Paratici likely leaving who knows if Tottenham takes up the option.
Which is obviously total nonsense as Spurs will take up the option for 35m euro unless Kulusevski loses a leg between now and the summer.
He's better than Spurs, other teams should prise him away for sure.
They can't buy if he doesn't wanna join them.
I believe Kulusevski has shown enough for other big clubs to come for him.
I'd love him at the Arsenal
When a loan with obligation/option to buy is arranged between the clubs, the player signs a contract agreement to join that club if they exercise the option.
Kulu is going to be a Spurs player. And then Levy will hold on to him and keep him prisoner for years like he has done with every other good player at that club. It is what it is.
I know it should be in between the clubs.
In this case if certain criteria are met, Spuds triggers the option to buy.
Could there be a clause letting the player to decide if he wants to go or not, even Juventus "allows" Spuds to buy?
Where did you find this information? Interested to know what this means for the length and pay rate etc
I don't know anything specific about the Kulu contract other than it is an obligation to buy if certain conditions are met (I think its CL or plays 50% or more of games) and an option to buy at 35m euro if those conditions are not met.
But I've read somewhere long ago (can't remember where) that the standard setup in these situations is that the players effectively signs a contract agreeing to join the club with the obligation/option if it taken up. The player has a choice when the loan/sale is initially made, of course. But once that happens there is a new contract in place that will go into effect if the option is taken up and the player is legally obligated to honor that contract. This is why you never see situations where a player goes out on loan with an option, the club takes up the option, and the player just declines and goes back to his initial club or forces a sale somewhere else.