We been kneeeeew
Remember when the Portuguese released a whole 'comunicado oficina' to play down this interaction between the two of them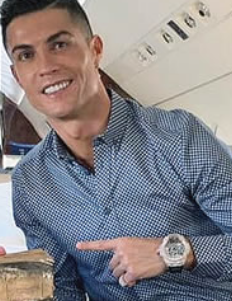 Ronaldo might have ruined his reputation at Man U but at least he's got a massive watch.
Piers Morgan did more good for Utd,than he did for Arsenal, stupid fool.
The absolute worst part about our current position is that Piers Morgan gets to share in it. Dude should be a United or Chelsea fan, some team that other knobheads support.
Can we cunt this thread off - dead, lock it off !?
No but if you scroll down you can mute it and you won't have to see it again

Everything he touches turns to shit. Just retire Cris.

Lol this guy became a living parody
Lol. This clown is finished (years ago). I'm enjoying his downfall. Prime comedy this.
Surprised at some of the negativity. C. Ron is one of the greats of the game and was amongst the Premier League top scorers. This idea that he was shot years ago is crazy.
He could easily still be a top player in Serie A, France or Germany.
Good luck to him.
How could he still be a top player in 3 of the top 5 European leagues? What's that based on? He seems completely finished to me
Ronaldo is finished. He isn't even a top player in the Saudi Arabian league.
Let alone in the Bundesliga or Ligue 1


He was one of the most consistent in the Premier League just 12 months ago. Do you really think he'd struggle in leagues where Laca, Giroud and forty something Zlatan are performing?
He was out of form in the same way that Salah and Son are out of form.
It's OK bro he had a great run, you can let go and retire from active duty
Collect that pension