Experiencing a fresh wave of grief about losing that match now, cheers Cal and Cesc.
We always were and remain terrible at this aspect of the game. Every other cunt does it.
Would he have? I think there is a chance.
Thoughts lads?
Arteta would have had a Xhaka like midfielder playing, and Cesc would have been on loan at Newcastle, so pizzagate would never have happened…
Personally, I don't get why throwing a pizza is held in such high esteem in Arsenal circles.
A stain on the club's name. A pizza size stain.
This kind of hypothetical bollocks does nobody any good.
Especially when what he'd actually do is bring his best friend in the entire world Santi Cazorla from Malaga to play with Cesc at Arsenal so the world could witness the best football ever played in the history of mankind.
Santi was class but Cesc was running games at 19 for five years. Santi never reached the height of Fabregas' quality for me, and for not as long. He was a joy to watch and a quality player but doesn't match Cesc for me.
How much for that homegrown #2 keeper?

Santi is one of our best Emirates era players (the two footedness and insane dribbling skills - mama mia!) but there is no question that Cesc was the higher impact, higher quality player.
It's such a shame that he never returned here. He won 2 PLs at Chelsea which is really painful.
That year we fucked the league with Giroud missing hatfuls of chances - no doubt Cesc would have mitigated that somewhat with his own goal output.
The only player in the PL era who can rival him for vision / pass execution PLUS goal output is KDB.
And even then, it's no contest for me in terms of pure passing ability. You could literally make an hour long highlight reel of his best passes. His long range passing ability was so, so underrated as well. God, what a player he was. One of my favourites of all time even with the Chelsea stain.
He's a legend in my eyes even though he never won anything with us. The winner versus Juve, the screamer at the San Siro, the solo goal versus Spurs, the other "dynamite" strike versus Spurs, the assist for the Adebayor goal at OT years ago…he's provided me with so many fond memories. Won't ever hear a bad word said about him - that's a hill I'll happily die on.
He broke my heart so this is obviously bias but I honestly feel like he stunted his own growth a little by moving to Barca. People always talk about his teenage years and rightly so, you'll struggle to see a better midfield creative at that age. As for his latter years well people never really consider him as one of the best that ever was. Largely because he seemly "flopped" at Barca but that was only by their own greedy and ridiculous standards, he was doing good things for them
He then came back to EPL and quitely went about being a creative force for Chelsea and winning titles. Though he's never held in any kind of regard among their fans, at least nothing more than a subtle respect.
Had he stayed here I can only imagine what might have been, perhaps RVP may have saw that a title with Arsenal was within reach, we'd almost certainly have won the big prize that Lecicester season. Arteta, Santi, Cesc would have be a dreamy midfield at points too, I guess as you say what makes it harder is we had that chance to bring him back and Wenger let his pride get in the way.
In a couple of alternate realties I could absolutely see Cesc being the next player in line for a statue outside the Emirates as the great conqueror of the banter era. Instead we have Xhaka running down towards a testimonial. Fuck.
It was just such an unnecessary transfer, which clearly they didn't know what to do with him there was stint he was playing up front or something ridiculous like that, sometimes as a winger too. Also despite coming from their academy Fabregas played in a fast paced league and a much more dynamic attacking style for so long at such a young age. He was just able to flawlessly ping and float balls to any area of the pitch without the need of any pointless side-ways possession. He adapted to his new surroundings but it was probably to his detriment. He just wasn't the same player.
Agree with all of this, Fabregas, along with Vieira and Brady was one of the greatest midfielders we saw at The Arsenal, such a shame the way it ended. He sort of flopped at Barca, and I know it was his hometown club, but I wonder if he had his time again, whether he would have made that move.
Awesome player!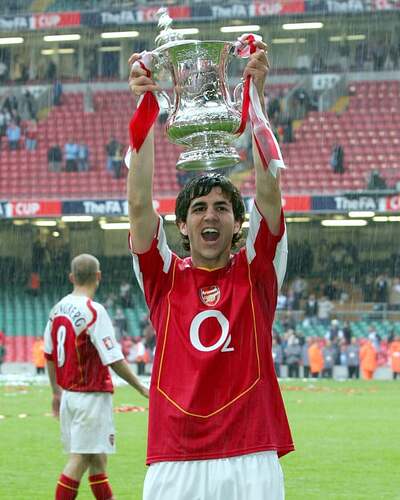 There's no way I can pass up an opportunity to simultaneously be pedantic and reminisce about scumming Man U out of a trophy.
He injured Roy Keane in that game, too, lol.
Still a weaselly little cunt, though.
Ballers the pair of them.
God I love that jersey. I basically lived in it when I was in college and have idea what happened to it. One day I'll buy a used one from CFS.