Fucking hell that's a serious chin and jawline
Ah man that 2004 CL QF 2 leg, I really shouldn't have watched the highlights again, but given you posted it I couldn't resist. Just like a car crash on the roads, you shouldn't look but you just can't help it.
Maybe some things you could not remind us about?
Hadji, the best Moroccan player on his day

Vieira was so fucking powerful, technically sound and just complete. I can't get enough of watching him.
If the stat nerds had Twitter back then they'd be going crazy over him for sure. He was just so good.
I went to that match at Old Trafford with my mate who is a spurs supporter and two Chelsea supporters.
It took a couple of hours to get there and about same, just to get out of the car park at the ground.
We had a great performance and deserved to win but Vieira was easily the MOTM.
From where I was sitting, way up in the stands, you could see how he controlled the midfield with his pace, passing and reading of the game.
I've seen us in a few semi finals at Highbury and it was a ridiculous distance to travel to Manchester for a North London Derby but it was worth it to beat them to get to the final.
Could you imagine this happening nowadays

I bet Arsene low key ran some marathons.

He knew what was right to keep us competitive.
That marks point where the club started to take a down turn and slowly become less and less competitive.
In an alternate universe, Dein stays and Usmanov takes over. Arsenal continue to build on their success, and the move to the Emirates plus the owners money facilitates our transition to elite European club.
In reports of that time the new owner, the board members had a dispute about was Stan Kroenke…who eventually got his hands on the club anyway.
David Dein sensationally left his position as Arsenal's vice-chairman last night after a boardroom row about a proposed takeover of the club by the American billionaire, Stan Kroenke. His departure threatens a period of considerable instability, and raises questions over the future of Thierry Henry and the manager, Arsène Wenger, whom Dein hired in 1996 and who has always seen Dein as his closest friend and ally in England.

Dein is believed to be in favour of a Kroenke takeover, and it is understood that he had discussed this with Kroenke without keeping his fellow board members fully aware of developments. Well-placed sources say matters came to a head in recent days and Dein was forced out, and certainly did not resign.

Takeover row forces Dein out of Arsenal - Independent Online Edition > News
Only after that he sold to Usmanov. But it's undeniable his exit was basically the end.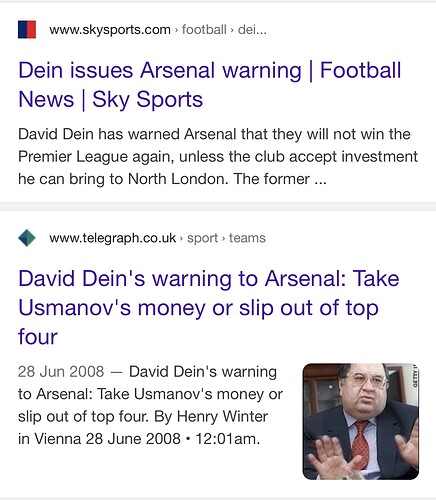 The telegraph article is hidden behind a paywall, but I remember Dein being very vocal in his support for Usmanov and at the time being shamed and basically criminalised (is that word?) by dipshit fans for supporting him. But his warnings came true and this whole "Arsenal way" bullshit was the narrative being touted, as if we didn't buy our way into the league nearly a hundred years earlier or that us buying all the top talent in the 30s to basically dominate English football never happened.
What baffles me is that after the Abramovich and subsequent Glazer takeover at United it should have been obvious to insiders and analysts that the direction of football was making a considerable shift to billionaire owners. Whilst the Glazer takeover was never in the same stratosphere - the club should have been more savvy and invited wealthier shareholders rather than selling up to Kroenke and keeping Usmanov on the outside.
Yeah exactly, and I think 2007/8 was the same year that Sheikh Mansour bought Man City.
Honestly bro, when you go and look back at all the bullshit we have been fed over the years as fans, really really makes you hate Wenger and the Board. Properly did a number on us.
Come across an old AFTV video from like 2014 last night before bed, and I remember all the hate from them years and the fact that in 2014 we hadn't won the league in ten years and hadn't been competitive for like 6, and then realised its now 7 going on to 8 years later and were even worse


was fuming.
Dein was our best decision maker, who always wanted the best for the club.
He was responsible for choosing Wenger, backing him fully in the transfer market and then us getting our success.
So it's ironic that he was responsible for selling the club to an owner who has done the opposite and is ruining us.
I think the opposite is true mate, Dein was in favour of Usmanov. He was friends with that Iranian dude who was partners with Usmanov, think that SD article linked is inaccurate.
Yeah it's ballistic when you think that things just never have gotten better. I remember when we signed Ozil and Sanchez and I got exciting thinking maybe we can become relevant again but the FA Cups don't gloss over what has effectively been going on 17 years of failure now.
I signed up this forum in 2004 after we had been invincibles. I was like 13 at the time thinking the sky was the limit and we were going to conquer Europe. I've never even come close to celebrating another league victory.
That's why I get angry when people say Arsenal fans are fickle and disloyal. We've stood by this club for a long time through all the shit and still given it our time, emotion and money.