I'd buy that

You sure about that? Cos we sure seem to shit ourselves anytime the oppo crowd get riled up or lively.
Not sure the method will work just doing it one off but clearly these players need to get more comfortable playing under that kind of pressure and intensity from the crowd imo.
Avoided the thread til I could watch the episodes but caught up on the plane, was gripped for all 3 eps, thought it was really good and nice to see some of the players behind the scenes.
Saka clearly being positioned as the star of the show but my respect actually went up for Auba in that first chunk. He definitely still was popular with the team and didn't seem to cause major problems. Maybe they weren't shown and the next episode might change that but he came across well so far.
Felt it worked perfectly for the show that we started so shit as well, gave us the classic under pressure/redemption arc.
Also enjoyed, thought the North London derby episode was brilliant.
Dare I say it, I'm becoming An Arteta in, if we can win something this season and do well. I'm fully on board.
Loved what he said(or didn't actually) after Everton. Something along the lines of "I'm not gonna say a thing because I will regret it".
Pretty positive I've heard that before either by Arteta himself or someone else.
Yeah and then just said the reaction in here is too late, which it was.
All that needed saying after that and I liked how he handled it.
Ma cock just grew 2 inches…
I made a tongue-in-cheek post about the pic below back when it was taken…Auba would play his last match for Arsenal a day later.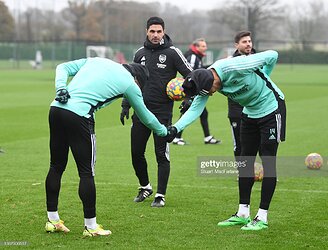 Auba's been fairly quiet. I can only remember him appearing in three moments. Having his headphones on in the dressing room, getting a haircut, and taking the piss out of Mikel's hand-rubbing pre-match speech.
Got the shirt signed for the photographer as well which was a nice touch. Not sure if he made it happen or just delivered it as the captain, but credit to him either way.
Also turned up to training in about 6 different cars in the first 3 eps.
Hard to link from mobile but there is a Times story with tons of info about the Auba situation as it comes out in the next few episodes.
I guess I completely wrong in thinking they were going to bury this. Apparently Arteta compiled a huge dossier on all his transgressions. And apparently Edu and Vinai wanted him reintegrated in January but Arteta refused.
I'm ignoring all leaks this time, so I can watch the episodes fresh.
Man that quote about being at Etihad and they were 3-0 up and they brought on Riyad and Raj on the pitch to humiliate us.
Arteta knows all about Pep's killer instinct.

I've had this thread muted till I caught up

Really enjoying it tbh. The NLD one was particularly excellent
Arteta was really fucking angry after that Everton collapse. I'm not saying much as I don't want to regret anything but the reaction in here is to fucking late, do it out there.
Isn't it funny people (probably me included as well) are trying to avoid spoilers regarding a season that already concluded?
Its not about the games tho lol
They've done a good job showing Arteta's methods and his relationship with the players. One thing that can't be disputed about his time here is the connection he's brought back between the club and its fans, while eventually forging a full buy in of passion and desire within the changing room. It's been a slow process but it is definitely moving in the right direction. He's very willing to let go of anyone who isn't on board with the rest of the ship. It's a united bunch.
Man Utd for example are very much some years away from building anything similar and completely without the patience needed for it.
Now I can't help but notice the complete ignorance of Partey, similar to the Spurs doc when it came to Ndombele. Interesting to see how that develops, in case there will be an episode for him later. It's pretty suss considering he's the most crucial player in the team at the time of these tapings and release.
I would have liked more dramatic replays of certain moments like the goals in NLD for example. But can appreciate keeping it grounded as well. Lacazette, Tierney and Aubameyang have been good fun so far.
I do think the YNWA training method was pretty pointless and cringeworthy despite the intentions. Sometimes Arteta's instructions can seem quite basic as opposed to tactically nuanced like Pep's were. But then again it was the same with Mourinho, probably edited that stuff out.
Looking forward to the new batch coming out overnight.