would get 40 goals a season for us in this current team
What a useless player.
Another one of Wengers wonders
What was Wenger thinking when he bought players like Sanogo, Chamakh, Park, Gervinho, etc?
He bragged about only wanting super quality, then bought players who were more suited to a circus.
But complained because he couldn't understand why all our best players wanted to leave.
They were free or fucking cheap.
Wenger's favourite price.

And well within our restricted budget at the time. Wasn't Chamakh coming off the back of a very decent season in France as well? Started decent here but once RVP was back in the swing of things it was over for him.
He did ok at Bordeaux but it was a weak league and he was only scoring around once every four games.
Wenger buying cheap wasn't the problem but only signing cheap players became frustrating as we were desperate for quality and he said we could compete with any club in the transfer market.
There is a very long list of Wenger's cheap signings and very few of them worked out in our favour.
there were even times that Giroud was so shit and on his annual scoring slump, and we needed to start him instead.
How shit those days were.
Hit and miss. Some of his cheap buys worked out very well.
Giroud scored some important goals .
Comparing or even putting big Ollie in the same sentence is just ridiculous.
One thing for sure , Wenger was clueless at times .
Giroud played 253 games for Arsenal, Sanogo played 20
Sanogo only got a start for Arsenal because Giroud brought banter headlines to Arsenal when he cheated on his wife.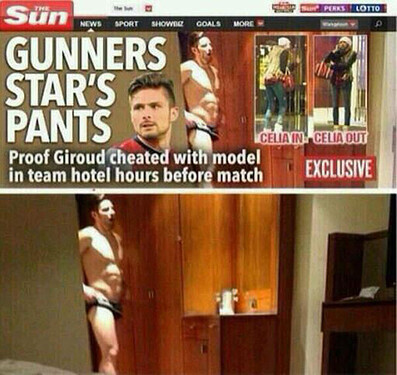 Giroud never bagged four goals in the Emirates Cup.
It's sad Sanogo gets so much shit from our fans. Very few strikers score 20+ Premier League goals 3 seasons in a row.
But did he bag four girls during the Emirates Cup?
when Giroud was having a slump and our back up was Sanogo… it was pretty shit.