Wolves vs Arsenal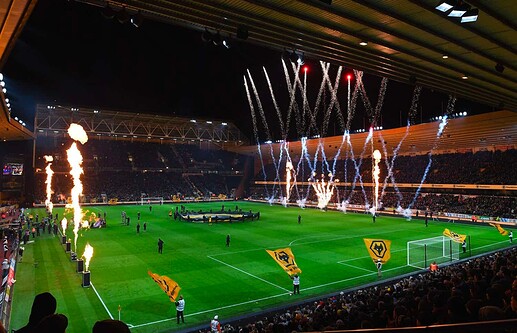 Molineux

Saturday 2022-11-12T19:45:00Z


Premier League

Sky Sports
Result?
Wolves win
Draw
Arsenal win
Going into the World Cup top of the league would be huge. Let's get it done.
lets stay top for Christmas
It's a done deal. Not sure why @Bl1nk did the poll.
We are the best team in the country. Deal with it.
Go get your brother. You can't be trusted.
Lets try again.
Gabriel Jesus to cash in his overdue goals and score 3 goals from his first three shots.
Please please win this one.
Really want us to be 1st when we go into the WC break.
Being second for 3 weeks will be bothersome
Come on Arsenal. Kill 'em
This could be a tricky one. Julen Lopetegui will most likely be watching from the stands and the players will want to make an impression on him. I expect it to be tougher than Chelsea.
We should have enough to overcome them if we play our usual game. Just hope we are more clinical in front of goal for this one. Jesus will be desperate to get a few goals before the WC and desperation is not always good for a forward. I do hope he scores a few in this one though.
COYG! Let's stay at the top.
Worry that too many players will have an eye on the World Cup in this last round of fixtures, think it could lead to a few uninteresting and comparatively pedestrian matches. Could see a 0-0 here.
Saturday night football. Away to the celebration police and if we win we are top throughout the world cup break and Christmas Day.
What a way to end part 1 of the season

COYG

Thankfully most of our players won't be going and the ones that are going likely won't get too many minutes so hopefully we'll be up for it
8 of our starting 11 will be going……
Luckily we'll have most of them back home in a couple weeks
Fuck is it really that many?!
I swore I saw a list the other day and it was like Saka, Jesus and Martinelli that looked like the only ones that would do a deep run.
I guess Tomi, Xhaka etc are going but probably won't get more than 3 games
7 actually.
Zinchenko, Odegaard and Gabriel ain't going.
So it's:
Ramsdale - should but won't start
White - should but won't start
Saliba - 50/50 he starts
Partey - Starting
Xhaka - Starting
Saka - 50/50 he starts
Martinelli - Won't start
Jesus - should but won't start
Not that bad tbf…



Too much caffeine in the morning. Thanks.