Please go on first dates. Be quality television that.
I agree about people protecting themselves. But that applies to things like a couple purchasing a house and having a legal document in place that protects both parties contributions towards said property in the event of the relationship breaking down. I bought recently with my gf and we were both keen to get something like this in place, we both got our own legal representation in order to do it etc. If it all goes tits up the fact that she put up more money up front than me, but that I'm the one solely paying the mortgage, will be appropriately reflected in our respective shares when the property gets sold.
But what we are talking about in this thread is something different, it's a gift to the couple for them to spend on their wedding. Whether they stay together or not, the money will be spent on the wedding day. It isn't an investment, or an asset to protect, its a cash gift to be spent then and there. To try and put legal conditions on that is a bit shitty imo, and is not the same thing as people taking sensible measures to protect investments in the event of a divorce. If you're happy to pay for part of your child's wedding, I don't see how it makes sense to expect your son or daughter in law to pay you back for that if they one day divorce, perhaps in something like 15 years time. That isn't reasonable, at all lol.
Either gift the money or loan it. Pick one.
Excellente

Just remember to dutty whine on your wedding day





I suppose that's all fair. But it kind of goes back to the initial point in the thread that people spend way too much on weddings rather than investing it into other more important facets of their lives. And the fact he's saying 'my children are paying for theirs except for 6-7k', which is a very kind gesture. But I wouldn't even want to spend 7k on a wedding personally, I'd want to put it towards a deposit on a house or spend it on a holiday if I did want to spend it on a luxury. I know plenty of people who regret it. People whos marriages didn't last a year. But even if they do last unless your rich you could probably do something more worthwhile. But each to their own I suppose
Hahahahaha I'm likely screwed if my relationship ends in terms of finances, I've probably put 75 % towards our current property, but I didn't put anything legally in place. So if we split it'll be 50-50.
I earn more so I put more in. It's worth spending money on the home you intend to be in for the next 30/40 years so whatever happens any money I spend won't be wasted in my eyes.
Repayments on the mortgage are 50/50. We don't share finances other than that and bills and only I drive so I pay for that too.
There are much more important things to worry about like why I'm the only one who ever loads the fecking dishwasher.
Is marriage any good after the 1st few weeks high off it?

As long as your not married to a Facebook fiend who wants you as a photo accessory.
Dont need to be part of feeling fucking blessed as you get a selfie of two coffee cups in Costa with hearts in them.
Avoid all that it's fine.
You can be allot allot worse than 50-50 mate, depending on local laws, how vindictive your ex is and if any kids are involved.
No kids involved at this stage, if that was the case I'd have said 25-75 haha.
You hung your girl for years for engagement. You don't have to worry about a divorce ever.
You finally find a house then?
Nah we've got an apartment mate, the plan is to buy a house and then after we do that sell the apartment. An upsize type move if that makes sense.
Jesus Christ. This thread makes me wish I hadn't got married

Hopefully this changes the tide a bit haha. I've intentionally kept away from this topic as I had following plans on my Saint Lucia break (currently there). Glad to say I'm now finally engaged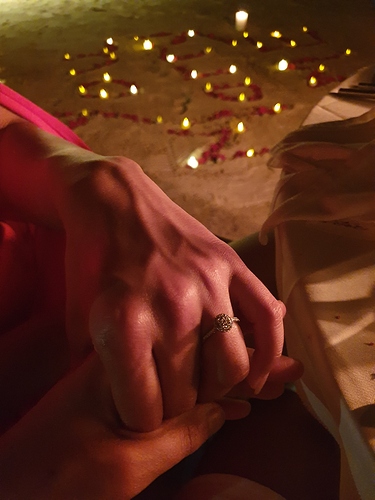 That's amazing dude! Congratulations!!
Congratulations yo no more swimming in shark infested waters