Remember listening to this at 19 in my 1.1 Clio with epic sound system thinking I was a badman.

This shit is hot, how the hell did he manage to get all of them on one track?

Make it 8 minutes long. lol
Edit: Meth don't play. One of the greatest in it.
Wu tang Clan and Public enemy just announced a UK tour for those of you who are interested.
De La Soul are in the line up as well. Might have to baptise the missus again in my musical ventures haha.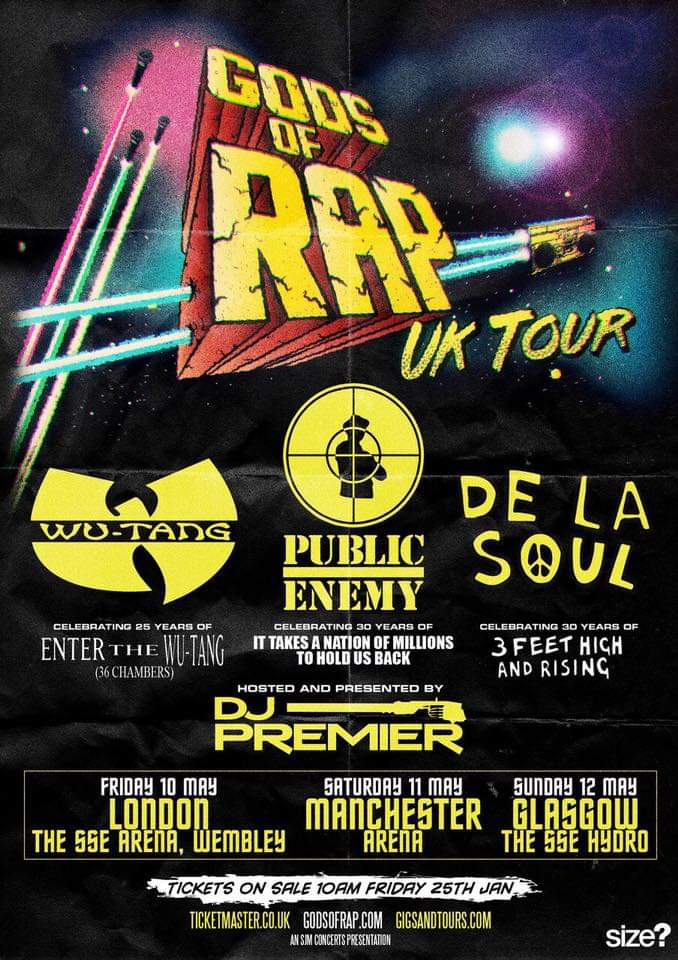 Yeah man, this looks incredible. DJ Premier as well

Wonder how much tickets will be, I'd love to go.
Fuck, that's a lot of money for tickets

Naughties banger.
It is a bit lol
But I'd find it easier to justify as it's an opportunity to see four legendary acts at once, rather than just the usual one artist/band you'd often get for that kind of price.
It's the going rate unfortunately. That's not bad when you compare to Kendrick (£65) Drake (£80) Nicki Minaj and Future (£80) 's recent UK tours.
on repeat these last few days


Listening to Enter the Wu Tang (36 Chambers) a lot recently
Anyone care to suggest which other Wu Tang albums are worth having?
While we're here, any other great albums from 90s and early 00s would be much appreciated
I got a list on my phone or laptop somewhere I'll find it.
Only Built 4 Cuban Linx (Raekwon & GFK) and Liquid Swords (GZA) are both essential Wu albums as they have some of RZA's best beats on them. The samples are godlike too, really nice features from Nas and Mobb Deep. Absolute classics.
I'll be back with a comprehensive 90's list soon.
My guys

Electrifying's top 10 Albums of the 2000s
Again, these are pretty mainstream so you may have already heard about/listened to these. I'm a simple guy, what can I say? These are all classics though, pretty much.
The Blueprint - Jay Z - 2000
Jay Z's magnum opus imo. Outstanding production, and vocals from the big man. Takeover is an underrated Nas diss, and the run from Heart of the City to Renegade is cumworthy.

Get Rich or Die Tryin' - 50 Cent - 2003
I fucking love this album. I flip between this for my number 1 or 2 from the 2000s every week basically. It has bangers after bangers after bangers. This is still my top 5 most listened to albums after all this time. If I can't and Gotta Make it to heaven are great, but so are all the other songs.

Madvillainy - Madvillain - 2004
Now this is probably the album I'd recommend you the most if you like the Wu Tang Clan. MF Doom brings his best in terms of incredible lyricism, current affairs such as the Iraq war are mentioned and Madlib is amazig as always on the beats.
I always say this is the 2000s answer to Eric B and Rakim - Paid in Full (which is another one to check out if you haven't)

Stillmatic - Nas - 2001
My 2nd favourite Nas album. He just goes hard as fuck. It's best known for Ether, which is an absolutely SAVAGE Jay Z diss that has aged pretty badly in today's climate. But wowee. One Mic makes you want to start some kind of revolution for the blacks.

Be - Common - 2005
Kanye West at his mid-2000s best on production. Common's sexy voice. Love letter to Chicago? What's not to love?

The Black Album - Jay Z - 2003
This was meant to be Jay Z's last album. And what a way to go out it would have been. It had that air of finality about it, as if something epic was happening and ending. That made it special, because it must have felt like and end of an era at the time.
2003 was a great year for Hip-Hop.

808's & Heartbreak - Kanye West - 2008
I hate it when twitter cunts say something is a 'mood' but this album really is a 'mood'. Fucking hell, every time I listen to it, I just reflect on like every life choice I made, and wonder if I'm going in the right direction. Even if I am, it hits me right in the feels.

Tha Carter - Lil Wayne- 2004
Now the 2000s, especially the mid 2000s was all about the sound of the South, and Lil Wayne was probably the most successful of these rappers. People have their favourite Carter, but mine was the first.
The Southern bangers in this take me back to loose baggy clothes, jeans down my knees, basketball tops, bouncy souped up lowriders, and the good old days of life (when Arsenal weren't dogshit for one)

The Eminem Show - Eminem - 2002
My favourite Eminem album and I'd be lying to myself if I didn't have him in the list as I listened to him so much when I was younger in the 2000s. Till I Collapse, Without Me, Saying Goodbye to Hollywood. So much stupid shit but some great production as well.

The Documentary - The Game - 2005
It was like Eminem Dr Dre could do no wrong at this point. After 2001, GRODT and Eminem's success, they found another gem in The Game and his debut was another great West coast album. Again just takes me back to the good old days lol. 14 years ago, fuck my life.
Honourable mentions:
TI - Trap Muzik - 2003
Another good southern album, just missed the cut into the top 10.
M.O.P. - Warriorz - 2001
Goes hard as fuck
Cam'ron - Purple Haze - 2004
Lupe Fiasco - Food & Liquor - 2006
College Dropout - Kanye West - 2004
Stankonia - OutKast - 2000
Imo this is the best album ever made. I think it's above Illmatic even, just flawless.
Dunno about that lol, Illmatic is my #1 of all time.