Genuinely the worst joke I've seen all year

Thats kind of the whole point of this style of joke. You're meant to groan and how fucking convoluted the set up is for such a laboured, shitty punchline.
This nearly made me spit my beer out on the train
Sorry in advance resident Americans

Holy shit that's amazing, that's the best thing I've seen in a while. Properly had me belly laughing.
Even better

This was a first for me at the Emirates today…someone brought a pineapple with them! It was sat there throughout the match watching the game…
Weirdly you are allowed to bring something like that into the stadium but you aren't allowed to keep the plastic cap when you buy a bottle of water at the Emirates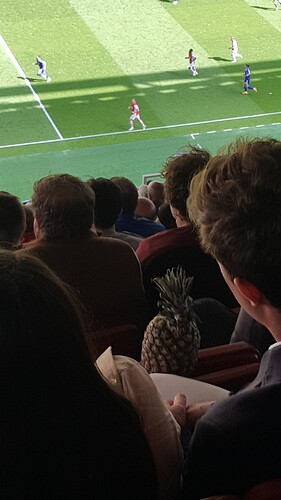 Did the Pineapple have it's own seat and did it enjoy the game?
Yep…it had its own seat and stayed until the end of the match!

pineapple has been treated like royalty gets a paid for seat for itself, just before it gets eaten mwahahahahahaha