That's the cost of a pint down here

Should have said…@weatherspoons
Or a fish finger sandwich.
@ me next time u lil bitch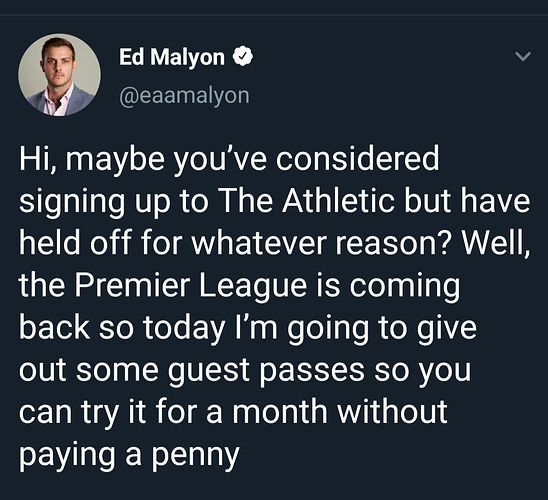 Here's a guest pass so you can check it out for 30 days for free:
https://theathletic.com/gp/w6fbi5uqnl
I have 5 if any one wants them
The Athletic haters will enjoy this
"ill-informed, substantially inaccurate, tittle tattle and misleading gossip."

The Athletic + Ozil Replacement + Radars =

I'll take one Odegaard and a Coutinho, please.
Super John McGinn got a mention aswell!
Small reminder that people are paying their hard earned money for these kind of thoughts:
Just in case I forget and it auto renews. Even though it was only 25 quid this was still a waste of money.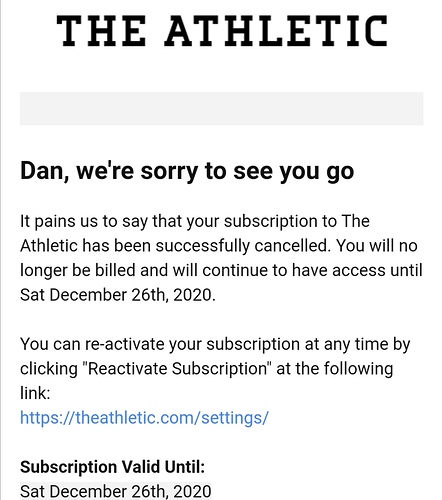 I wonder if he thinks Nigel Pearson is better than Arteta as well?

Is that because you didn't like the content or because you never read the content?
I know a couple of people who fit into the latter. They liked the idea of it, but then when it came to it they just couldn't be bothered to read the long articles.
That one. I love a feature but when it's (more or less) all features all the time it gets a bit pointless.
Ended my subscription too.
They have good content, but I just never read it on a consistent basis. Either forget doing it or indeed get put off by the length of an article.
Plenty of times I saw a headline and thought: "Ooh nice, I gotta check that out." Which I just never did.
Also, most of the Arsenal bits (which I signed up for in the first place) get leaked either on OA or Twitter, the most interesting snippets anyway, so that kinda spoils those articles for me.
Probably the same kind of guy that thinks Anelka was better than Aubameyang
That's me. Not opened it in months. Always intend to but somehow never get round to it
I like to build them up so I can read what I fancy when I'm scrolling through the feed haha
Did you not get an email offering 30 per cent off if you resigned?
No.
I used to read it every day but now it's only a few times a week if that now. So don't think I'd miss it anyway