Southampton vs Arsenal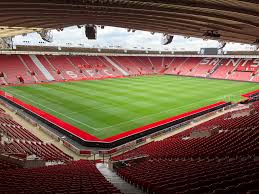 St. Mary's Stadium

Sunday 2022-10-23T13:00:00Z


Premier League
Southampton win
Draw
Arsenal win
Another away win for Mikel's tricky gunners

Southampton are pretty shit but we must be absolutely knackered at this point given our squad depth.
Not sure we can keep all these wins up.
We have 6 more games after this in the next 20 days to play before the break.
ffs thats nuts

Arteta needs to actually rotate in the Europa games and the energy drink cup
Yeah it is actually madness.
The World Cup might actually be a huge boon to us, quite a few of our players aren't playing and several won't go too far in the tournament.
I'm most worried about Gabriel, Jesus and Saka getting worn down.
Hopefully we sign Danilo and another wing in a January as well.
He can afford to rest every first team player for the EL games.
We've almost qualified top of the group anyway and can't afford injuries to key players so the priority should be the PL.
Tbh I hope Tite continues not selecting Jesus and Martinelli.
Would be a big bonus
Saka is who I'm most worried about.
World Cup will be such a blessing
Ramsdale won't play
White probably won't even go
Gabriel isn't going
Zinchenko isn't going
Tomiyasu won't make it out of the group stages
Partey won't make it out of the group
Odegaard isn't going
Vieira isn't playing if he does go
Jesus and Martinelli are uncertain to go and if they do they're not nailed on to play anyway.
Saka is the only one who will play enough games for it to be a concern.
It comes at an ideal time for us too, almost like a winter break within itself
I would be perfectly fine waving the white flag in the energy drink cup against Brighton and playing a youth team that will very likely lose.
We don't know how the World Cup will affect all these players and their fitness, but I wouldn't be sorry not to play a bunch of energy cup fixtures in late December and January as we try to get the squad healthy and ready for what should be a very intense and fixture packed spring.
I think he will now, especially with Walker and James injured. Probably won't play much, mind.
Though I heard Warnock say if it was up to him he'd have Ben White and Dan Burn in the starting XI

Think we'll win despite fatigue, Southampton and Arsenal is a pretty big gulf in class at the moment… Don't think it'll be easy for us but see us doing enough for a Southampton 1-2 Arsenal.
Saka? He'll be out in the groups
I don't think England will be that ordinary.
You not watched much recently?

Can't buy a win with the waistcoat wanker.
I'll take a jammy 1 goal victory here. It ain't gotta be pretty. Just give me 3 points and I'm good.
Been awful.
But I think they'll raise the level a couple of notches in a major tournament.
We are fatigued but so are all the top 6 who have European games to contend with.
Everybody is going to have an issue with tiredness.
City appear to be the only team with the required level of depth to not affect them too much.
Games against teams like Southampton, who will be fresher, are going to be a battle all the way through to the WC break.
I'm concerned but we should still be winning. We don't need much more to top the EL group so this should hopefully be the last PL game we go into where we've had to play lots of first teamers on the Thursday night.
Mikel absolutely has to rest the first team in the EL now. Fuck it if we can't finish as group winners and fuck what he said about top players being able to play 70 games a season. We have to prioritize the league. We have to get CL next season at all costs and the league, and our current position in it is our best bet.
Coming to this game, I expect this to be similar to the Leeds game, with us not being as dominant as we have been for most of the season. Hopefully, our quality will make the difference in the end. It's an away game, Southampton are coming into this after an away win and they usually give us a good game so I expect this to be no different.