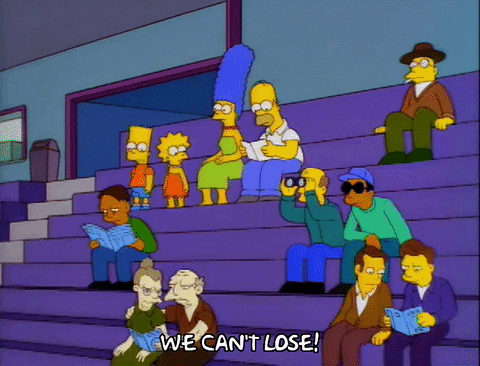 If we fuck up against @Craigie 's second favourite team then god help us. Like to see a mix of giving the youths a chance and a couple of experienced players for this one. 3-0 to the Arsenal.
Expect Laca to be score again here. Hopefully Iwobi can do the same.
Laca shouldn't even travel!!
Fulham away much more important
You are right. :welbeck: to do the job, then.
The Durate Derby, surely?
I'd leave lots of first teamers at home and for that reason I'm picking us to draw this one.
The excitement of the Europa League.
Actually playing a team called carrier bag.
They are the reason Atletico dropped into the Europa League last season

Of these two teams one of them was in the Champions League last season.
Toughest game of the season, then

Two giants of the European game finally going head to head. Two in form sides. Two top coaches.
This will be close, I'm going for 3-3.
I love that you have both rushed to defend the honour of carrier bag, incensed at the idea of my disrespect for the might of our opposition.
Meanwhile, I was just going for a cheap joke

No Arsenal supporter should disrespect any trophy we are challenging for .
It's been absolutely years since we won a European trophy , something Wenger failed miserably in .
I'd love to see us win the Europa League .
COYG
We have enough squad depth to put out a decent enough team and get the 3 points. Not sure why we all squirm at the prospect of a match even if its a bit of a journey.
First class travel makes all the difference on a trip like this and factoring in the opposition its a good chance to try a few more things out and keep a bit of momentum going.
We're fortunate that we have three World Class goalkeepers, so we'll be in safe hands between the sticks

I don't think there is any need to risk our first teamers, other than Mustafi. Perhaps after the match they could abandon him on the outskirts of Baku – the chances of him finding his way out of a tricky situation and returning home are close to zero.
Kolasinac, Elneny, Guendouzi, Smith-Rowe, Welbeck and Nketiah to start.
Exactly. As we are not challenging for the biggest trophies, we should focus on the Europa League and the League Cup.
When did that happen?
I knew I should have paid more attention during the transfer window.