Looking for the worst of the worst

I'll start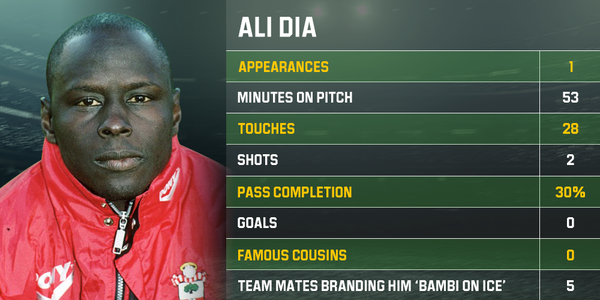 Dare you to compare it to your mate Sanogo.

Into the hall of shame, the fans of Arsenal FC:
Nah Eboue was a club legend

Jozy Altidore.
I know he's done alright in the MLS, but he was dreadful in the PL. Scored 2 goals in about 100 games.
Edit: just checked (yes I know I should have done that before posting) and he only played 70 games in the PL. But still, 2 goals in 70 games for a striker is abysmal!
Christened 'Dozy Altidore' by his own fans. People can be so cruel

Yes, but if he continues like this he's def in the making

120 games and 19 goals so far.
Aspas at Liverpool was woeful.
I dunno… he's a lower half/lower third PL forward. Didn't we have a didn't fulfill their potential thread? Feels like he more belongs in there. I'll shut up now though cos I don't actually care about Connor Wickham.

Step forward Winston Bogarde

Would any of you agree with Veron? His spell over here was so disappointing
so was his choice of clubs. but yes, agree.
Does this include incidents?
Surely Kieron Dyer and Lee Bowyer getting red cards for fighting each other while playing for the same team is right up there.
Veron was a supreme player but it just never clicked for him in England so he's definitely up there with one of the worst signings in PL history when you look at price and what he delivered.