Newcastle vs Arsenal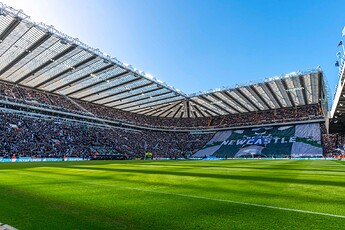 St. James' Park


Saturday 2023-11-04T17:30:00Z


Premier League

Sky Sports
Result
Newcastle win
Draw
Arsenal win
Very tough game but hopefully similar result to last season
Would it be considered an acceptable result?
It's acceptable in isolation I think, but given we drew our last game at Chelsea I kind of think we need the W.
City are at home to Bournemouth and will get some separation on us if we don't win, Liverpool will jump us also after they win at Luton.
Hard to see us going there abd winning again but we are playing a depleted Newcastle team.
Raya;
White - Saliba - Gabriel - Tomiyasu;
Odegaard - Rice - Havertz;
Saka - Nketiah - Martinelli
Newcastle are arguably the strongest team at home in the PL but our away form is as good as any other club so it will be an interesting game.
They might have a few injuries but Howe is a top manager and will get the best out of his players, so they could just sneak a win, but I'll go for a draw, possibly 2-2 with Nketiah and Saka to score.
Ah the game raisers. They will treat this like a Champions League final.
If Havertz plays up top, I think we'll be able to draw in our wingers more and clinch the victory. I'll go draw, as it'll heavily depend on Arteta's lineup.
I think it wouldn't be great but also not the end of the world.
I think if it came with a Spurs loss that would keep us the only team to not have lost so far this season then that will be a positive for me as I think our schedule after that is good until we face Villa in December.
City will obviously beat Bournemouth but then gotta play Chelsea, Liverpool, Spurs and Villa.
Again, I said it before, it's Liverpool that I'm worried about. Silently gaining momentum.
Fuck this club.
They'll probably get a result.
Fuck Newcastle we aren't rivals and we are much better than them.
2-1 win
I think City will get going now, won't surprise me if they beat Chelsea, then Liverpool and spurs of which both are at home.
First loss of the season incoming
Confident of a win, just hope the atmosphere doesn't get to the team again.
Seeing Szoboszlai in their midfield and Havertz in ours just makes me sad. We were linked to him and iirc he got hurt. Our luck we would have signed him and he'd have turned out to be as unreliable as Partey.
With how we're playing this season, I just don't have much confidence in us getting anything out of this. If we were playing the silk smooth football of last season, I'd think we could do it. But we just haven't played well for me besides a game or two. Arteta has took the swag out of this side. St James Park will be rocking and there players turn into prime Barcelona thanks to them.
Eddie or Havertz up front or Jorginho or Elneny in the midfield worries the hell out of me.
My heart says Arsenal win but my head says Newcastle to put us to the sword in a 4-0 loss.
Draw's not a good result for me.
Not a direct rival so doesn't matter too much how many points they get out of the game. What matters is there's 3 times the number of points for a win over a draw, need to go for it.