No one kicked anyone out until the war.
I think the world would be more accurate. Many Israelis are from the arab world and they were certainly not treated well there.
Many of them strongly oppose the idea of living together with the Palestinians in a free state because of this history.
Still, Israel is a colonial project and ethno-nationalism is always very bad.
---
This is an area I'm definitely out of my depth discussing.
All the same, the Israeli government are a bunch of dicks.
Just the usual war crimes followed by subsequent denial from the Israeli forces
Just more illegal expansionism from the Israelis.
Seen this reported today on the BBC. Fence sitting and squirming over making any accusation on Israeli forces. Pathetic viewing it was.

breaks my heart to see what they're doing and to try and justify it in my name because it provides them some sort of insulation from criticism. It's diabolical.
But also, idk that your average Israeli cares much. At least when I lived there it was entirely possible (especially if you were white) to just kind of be.
You go to work, take the bus to Tel Aviv for the weekend, drink, party on the beach, buy some weed, etc. It was just kind of mundane unless you really stopped to think about it which is terrifying.
Nothing quite like attacking funeral goers and causing them to drop the coffin of a journalist that they murdered on the floor
Those damn Palestinians trying to mourn the loss of a journalist, how dare they
Could you imagine the furore if there was a Ukranian funeral for a journalist, and Russian thugs came and started hitting the mourners?
We would be holding fundraisers. Boris would make some stupid Churchillian statement. The BBC would even use their super large font to indicate just how important this was.
Instead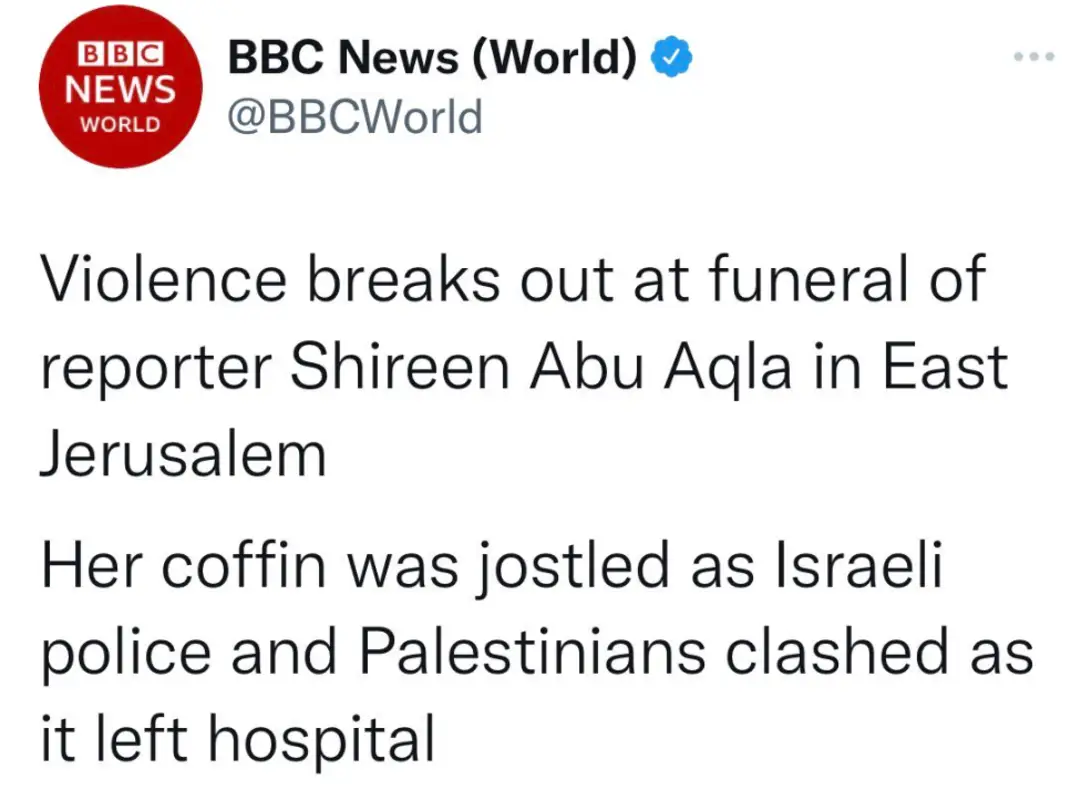 "Jostled"
"Clashed"
Because of course these words appropriately describe police in riot gear clubbing unarmed and non-violent funeral attendees.
Absolutely disgusting. There's just no reason for it.
Isreal help run the world. No chance anything bad gets said about them.
Glad to see the BBC fact checking and providing accurate, honest, truthful information.

Imagine occupying land and calling the actual rightful inhabitants of the occupied land "terrorists"
Killed a five year old child. The things the Israeli government does in my name is just…psh. Idk. Depressing doesn't even really cover it.