As a democratic socialist I really don't need to be told the part in bold

I suppose I feel that kind of strengthens my position, the position I am taking about how football should remain affordable for all is one that I apply to most facets of life and our society, including things that are far more important to people's well being and day to day life.
Basically I don't think that "capitalism causes more serious problems than people not being able to go to football" is a sentence even worth saying, because it is so blindingly obvious that I don't think an one would disagree or not be aware of that fact. It's a bit like when there are articles, protests or social media campaigns about an social/politocal/environmental issue and people say "there are far bigger issues that you should be concerned with instead of this, why are you talking about this", missing the obvious fact that people can be concerned about more than one issue at a time, or that support for different causes are not mutually exclusive. If there's a series of articles about women facing sexual harassment in the work place you'll always get some man saying "why are we even discussing this when there are bigger issues we should be tackling" as if there is only time to be concerned about on issue at a time, as if being concerned with sexual harassment in the workplace means a person isn't concerned about other issues. I see yours and shevchenko's point in the same light. Yes there are bigger issues caused by capitalism than this but hat doesn't mean we have to just shut up about it until all of the more serious issues in the world are resolved.
In particular because it clearly doesn't have to be this way. This could quite easily be fixed by the powers hat be, all we really have to do is look over at Germany.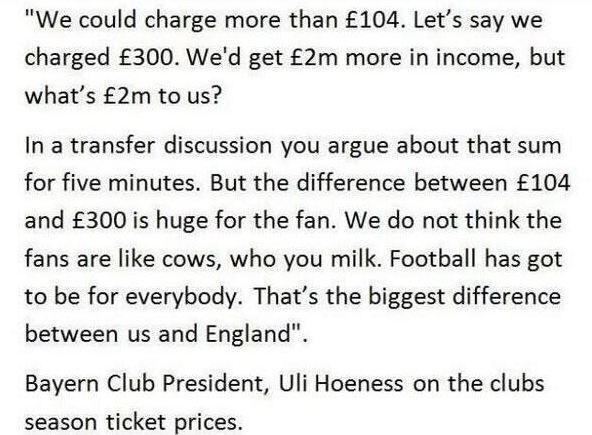 They don't even have tv deals comparable to the one we have, which means that matchday revenues are a much less significant part of our revenues than they once we're in years gone by. The quote and Germany generally shows that astronomical tickets prices are not just a fact of life that you and sevchenko say we must accept. We shouldn't just accept it, people should keep talking about it and campaigning, and things may change.
As for saying people should just support a different team, I can't get my head around that. You don't change teams full stop, that's it. Maybe because you are abroad and probably chose to support Arsenal for a set of logical and defined reasons you think that there can be logical reasons for deciding to support a different football club, but that's not how I view fandom.