Having Trossard as a "9" does wonders for him.
13 goals so far.
Can get the magic 20 goal target with 10 games left
I really hope him and Saka hit 20 goals this season.
What a statement at their age!
His finishing is pretty damn good. Race to for clubs Golden Boot. Saka has the benefit of pens but I'm backing Mar 9.
Massive performance, especially after being the one to miss the pen. Looked absolutely unaffected.
Mentality monster.
Just love this guy. We have some great young characters in this team now.
You take this back right now
Him and Saka both have 13 goals in 38 games. Martinelli 13 from 28 in the PL and is essentially 1 in every 2 which is the golden mark for a forward. Saka with a total of 22 G/A from 28 games while Martinelli has 15 G/A. Then throw in Ode with 10 goals and 7 assists, its trending for well over 60 G/A between the three of them. Crazy numbers.
Yeah it's amazing, I can't remember the last time I felt so hyped about an arsenal team.
And they're so young as well
This team definitely feels different than some of those later Wenger years young sides. Feel we have a bit more about us and no massive glaring holes in the team (at least our main lineup anyway). Definitely feels like we aren't as susceptible to teams "roughing us up".
We have guys like Ramsdale and Gabriel who don't mind getting down and dirty and stepping in when teams try to be rough with us and even Martinelli has that edge to him where he is happy to ride out cunty play and deliver some of his own back.
Yeah but this young team has proved that if you play well, you hardly ever need that.
Don't do this, it's just yuck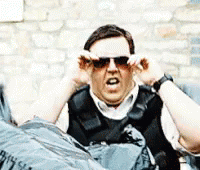 Feels so good to see our young players blossom like this, continue to see them improve and push on.
Lesser ones get swallowed up due to the pressure and rigorous demands of this league but not these guys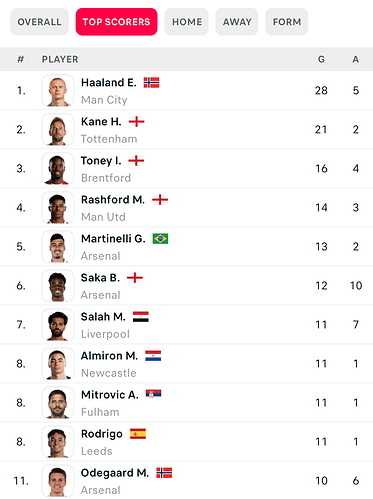 It's very impressive that our 3 key attackers have 53 goal contributions between them this season.
And that's without Jesus being available for more than half the season.
I hope both Saka and Martinelli get into the 15+ bracket for goals. Would be a huge achievement for two 21 year olds to post those numbers coming from the same team.
They both look fairly certain to reach that target.
What did he cost us, like 6 to 8 million quid?
UGE BARGAIN
It's the first time in my life as an arsenal fan that I get experience young players break onto the scene with us and then genuinely blossom into someone that is becoming world class.
So many years spent dreaming and hoping about players like Bendtner, Bellerin, JET, Frimpong, Bischoff, Merida, Wilshere, Walcott, Vela, Akpom, Afobe, Watt, Malen, Iwobi etc.
And that's just off the top of my head, there are so many more as well that I remember watching and hoping desperately would turn into world class players but ultimately were just damp squibs.
Fuck it actually feels so amazing. I really hope ESR and Nelson can realise their potential as well, and Patino too. It's just such an awesome feeling to experience first hand.
I remember watching Martinelli and Saka's debuts and watching their first goals etc.
I know it's early days yet, but it's hard not to get hyper at the prospect of Martinelli, Saka and Odegaard pulling our offensive strings for the next 5-7 seasons and dreaming of them putting down similar numbers to Mane and Salah in their glory days.