I think a chunk of his Sunderland goals were from the bench too which is why I picked him.
Thought it would've been more than 24
Where's ole on the list?
He had 17. He probably got a lot more in cup competitions as he was a sub specialist pretty much at united throughout.
Yeah, me too, felt like a surprisingly small number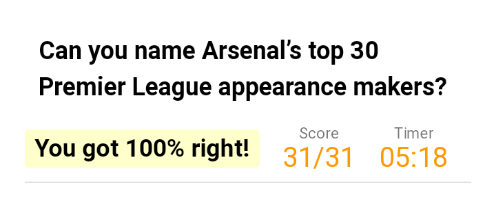 Who is the only former Premier League player to have represented his country in 4 decades of football. 1989 to 2010?
Is it that goalkeeper that was known for wearing tracky bottoms? Hungarian I think.
No and no. He's a European.
He won the CL with Ajax and played for Liverpool under Houlier.
Tough one if any of you fancy giving it a go
I think one of them will be the Arsenal legend, Lee Chapman.