FK Bodø/Glimt vs Arsenal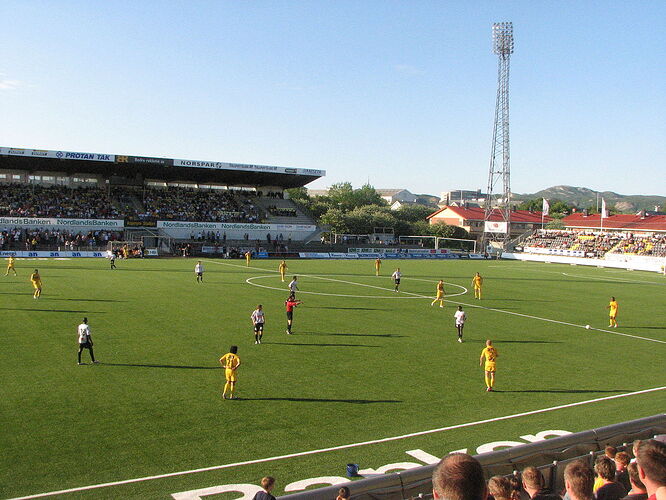 Aspmyra

Thursday 2022-10-13T16:45:00Z


Europa League

BT Sport
FK Bodø/Glimt win
Draw
Arsenal win
Step away from the poll @Flexo

so are we playing the other half of the team this week
After an easy game against the scousers, we need to be up for this one
Just play the same team that beat them 3-0 the other day.
Not bothered about the result for this one, we can afford a stumble with 6 points.
We can't really. Especially a loss. It could get a bit messy if you check the table.
We're riding a high. We're going to stomp a mudhole in these poor bastards.
This will be tricky in Norway with a 2nd string unit. Could see a draw here.
Nketiah, Vieira and Marquinhos need to really take advantage of these opportunities.
Annoyed that Zinchenko, Elneny and ESR are injured, as they are very strong squad options for these kind of games.
We're going to put strain on the first string, as we always need to play a handful of them.
Tomiyasu and Tierney should be fine to start though. One of Saliba or Gabriel gets a rest while Holding takes the other spot. But the midfield doesn't really get a rest.
Cedric was on the bench today
I'd go for Tomi and Holding cb with Cedric and Tierney
Unfortunately I really think we need all three points. We should win this group and should want to win it to avoid that extra qualifying round.
That said, maybe we can leave Jesus at home. We don't really do draws so I'll assume we win. Can see it being a bit scruffy. Makes me wish we had Big Mo available.
I would give that 15 year old a shot in this game
Turner
Cedric Tomi Holding Tierney
Vieira Xhaka Lokonga
Marquinos Nketiah Nelson
Just want a Vieira and Nketiah clinic.
Very torn about this one. With cold weather and artificial turf, part of me just wants to a big portion of our first XI at home. On the other hand, if we can get three points we really put ourselves in excellent position as if we can then thump PSV at home in the following game will have nearly clinched first place in the group after four matches.
It would be great in particular to make our home match against Zurich on the last EL matchday a total dead rubber as we are away to Chelsea the following Sunday.
Yeah, no would rather not take that risk after just 2 games.
Finishing second will mean having to play 2 extra games.
Looking forward to seeing how our second stringers do up in the arctic circle.
I want us to do well in the EL but I think it's important we prioritise our momentum in the league and I really don't want to see players like Jesus etc. playing and risking injury.
Happy to take a draw if that's the trade off tbh
I'm sure, even with our second team, we'll get a win.
It's a chance for the fringe players like Nketiah, Vieira, Lokonga, Marquinos,etc, to show Arteta what they can do and for the more experienced bench players like Cedric, Holding and Tierney to have a run out.
We might also see what Turner is like playing for the first team
When will the squad travel? I would say today at the latest right? Wondering who of the first XI will make the trip.