Ah wish I had such luck. My first sub is the Palace defender Andersen, and he has 7 points.
Just benching Antonio as don't want to sell him.
Thanks to CR being cheaper than I expected I got to improve one of my 4.5's to Semedo for GW5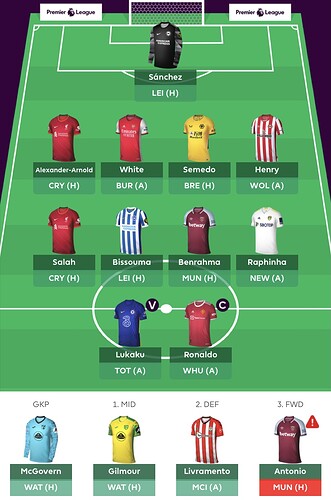 Livramento and Duffy on my bench for 11 points


A bit late, but whats the fpl code

Depends how many points you have

Fuck this week. No TAA. Sold Tsimikas and then he plays. And brought in a Wolves defender for a single point. No Torres and no goals for City mean plenty will have at least 6 points coming off the bench.
2 of my starting XI didn't play. My bench is shit with Antonio out this week, Brownhill and Amartey. Too many bloody differentials returning this week. I'm fucked. Was doing so well in my Leisure centre mini league too, but will from this week. I want that bloody 1 year free membership damn it.
45 points with the big two upfront playing tomorrow

Some good defensive points. Clean sheet for Dias and 2 bonus points. Clean sheet for Ben White and 1 bonus point.
Hopefully I won't regret not putting Salah as captain.
Joint top of the league thanks to Odegaard
I generally try to avoid using an early Wildcard, but inescapable this year
I got loads of points from defenders, including Dias as captain, but Mendy and TAA didn't play so lost some points there.
I need to sort my midfield out.
Yeah crazy week. Thankfully Robertson and Torres got subbed for Toney and Duffy for me which saved me 11 points, otherwise my week would have been really bad. Still lost 6 points on my bench in the form of Liveamento though








Needed. I'm not having a good week so far.
I thought I'd captained Salah but turns out it was Ronaldo lol.

I went with Ronaldo too. Thought about Salah, but Brentford have been pretty tight at the back, so Ronaldo edged it.
Ronaldo did feck all. Benrahma did feck all. Lukaku did feck all. Relying on Arsenal players now which is never a good idea.
Yeah. I had it on Salah all week and then changed to Ronaldo Saturday morning because of how solid Brentford has been at the back. To top it off, Toney is on the bench and Greenwood blanks. Another not so good week, but getting Sarr in for Torres paid off.
Part of my want to play my wildcard, but I think I may just take a -4 and to get Greenwood out. He hasn't really gotten ay chances since Ronaldo joined. Already did Shaw > Rudiger. Just not sure who to bring in. Wish Chelsea had a go to MF. Will leave Ronaldo > Lukaku until GW8.