Sunday 07 April
Premier League Game 33
Goodison Park
KO: 14:05
LIVE on

Arsenal win
Everton win
Draw
0-2 victory. Walcott with an own goal brace.
Bit early for this. Gonna close it down until Wednesday.
If we win here we are gonna finish 3rd without any doubt. C'mon!
Might go to this one if I can get a ticket
Going to say 1-1 in this one, Everton have improved of late and we just aren't the same side away from home.
Interesting fixture, either a classic Arsenal letdown or a big step to better things.
I just can't believe how bad our away form is
Turn it around right about now, show everyone that when it matters our away form is fine, just fine.
WE HAVE NO WEAKNESSES.
LIKE THE SPARTAN DEFENSE FORMATION.
(after we send agent Mustafi over to infiltrate the enemy)
edit: actualyl we might need to send another couple of players over, but we can be approx. like spartans.
Wonder if Pickford will be dropped after the street brawl incident

Apparently he reacted after some guys called his girlfriend a fat c***
Hopefully not. We need Jordan Butterfingers between the sticks on sunday.
You see it and think, "ooh, Pickford in a street fight, this'll be good" and obviously it turns out to be a fucking shit watch in which nothing appears to happen, as usual.
One day I'll learn.
Don't think he should tbh. He's just sticking up for his GF.
We will be wearing our home top away to Everton for the first time since *2013/14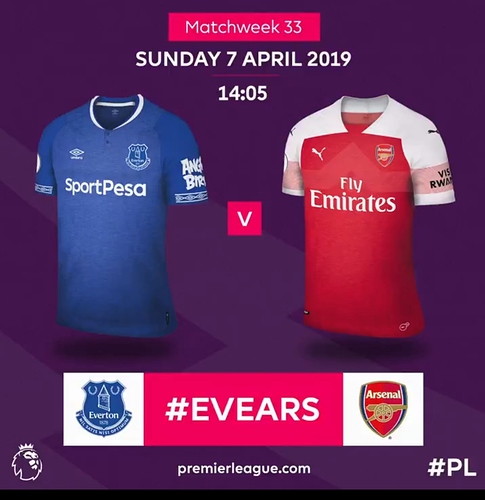 *Don't ask what the score was

Why is this thread dead lol this is a fucking massive game for us

We are winning so the moaners have nothing to complain from.
Exactly this.
Come on people. Let's piss some rainbows in here
Worried yet?