First off, the Netherlands elections. It looks neck and neck with Mark Rutte, Mark Wahlberg lookalike and the Prime Minister and anti-EU Geert Wilders. Rutte took some flak for some billboard ad he did telling people if they don't accept Dutch values they should go away. Trying to get some of that anti-immigrant vote I guess.
They go to the polls next month. The prevailing wisdom seems to be that even if Wilders wins the most votes, nobody wants to work with him, so he won't be able to form a government. Thank fuck for proportional representation.
Then, the French Elections in May. Benoit Hamon just won the primary to be the candidate of the Socialist party (Hollande's party)
Very unlikely he will win, but he seems like a good guy.
Latest polls have it this way: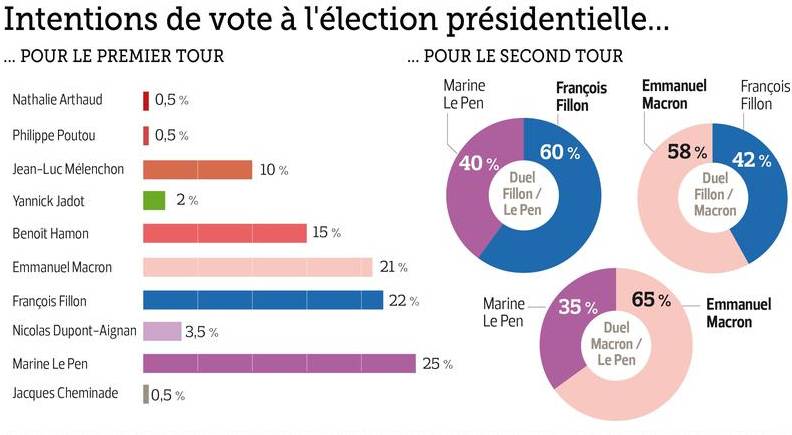 The far-right Front National candidate and anti-EU Marine Le Pen is polling the highest, with Fillon of Nicholas Sarozy's right party in 2nd. Fillon has been described as the French Thatcher…
However, Macron (who left the Socialists and is now running as an independent) has come out of nowhere to be right in the running. Unabashedly pro EU, his charisma has energised people, for me kind of like how Nick Clegg did in 2010. Because make no mistake, this guy is no Sanders/Corbyn. He is a centrist former investment banker and pro business. I just hope he doesn't fuck up like Clegg did, because he is the best realistic choice for me.
The thing with the French elections is that there are 2 rounds. The top 2 candidates of the first round go through to a head to head second round. This is why Le Pen still has her work cut out for her. Even if she wins the first round with her passionate loyal base. Everyone else will probably vote for the other guy, whoever it may be. That is what the head to head matchups in the poll are for, the 2nd round.
However, Fillon is now embroiled in a scandal:

So this may help Le Pen, and hopefully Macron. If Macron makes it to round 2, he will beat Le Pen for sure. Fillon, i'm not so sure about.
And finally, the German elections in September. Angela Merkel of the CDU is the big favourite. But news just in is that Martin Shulz (president of the European Parliament) will be the candidate for the SPD. He personally, has high favourables, though so it will be interesting. Bth these guys are obviously pro-EU, the anti-EU far right force here is the AfD. They are rising in the polls but they are not quite a threat as in France and Netherlands.
Let's see what happens, will be interesting for sure. Hopefully 2017 can be a more encouraging year than 2016 was. Resident OA Europeans, would love to hear what yous think. If Le Pen or AfD get in, surely the EU is over. But what is the feeling like in your homelands?
Will the far right make further gains?