Only Arsenal memories of safe hands I have is playing as Arsenal on FIFA 2003

One of my favourite keepers ever.
I wonder, do people consider Seaman world class? I remember feeling like he was a very good keeper when I was younger but don't ever feel like he was in the discussion of Europe's elite.
my favourite ever arsenal keeper
Best performance was away at Auxerre in the CWC in 94/95.
Can't believe Spunky didn't have his own thread.
That goalie shirt is fantastic as well, he had some stunners.
Great hair and tasche combo as well
Our best ever keeper. Jennings was better and truly world class but a lot of that was for Spurs tbh.
CwC though was a tragic moment as was Brazil in the world cup.
He is an Arsenal legend but I'd say he was just short of world class with the competition around at the time tbh.
Liverpool 91 when Merson won us the game. First half he was outstanding.
Absolutely incredible early days. The way he dominated the constant chances Liverpool created against us in 90/91 is largely why we won the league. Liverpool arguably had the best attack in league football at the time. Not to mention he obviously did it throughout the season.
A little past prime by the time Wenger got here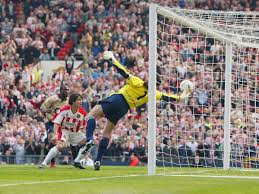 Up there as one of the all time greatest saves

Disagree reckon he was at his best against 90/91 Liverpool. They were leagues better than any version of Auxere and he saved after saved after saved
Not gonna argue with you or @stroller when it involves a win against the Scouse.
was gutted for him when ronaldinho scored that free kick with that beach ball against him.
Does anyone remember the Seaman vs Chris Woods argument?
Weren't they being used interchangeably for England's WC qualifiers for USA 94?
A great personality and a great keeper, one I looked up to. But there were so many good keepers in the world at the time, not sure I would even rank him top 3. But wc? Yes. Believe me I can make a record long thread discussing them all.
Seaman's strength was positioning and reading the game. He did his share of great saves yes, but he rarely had to. Being unspectacular and making it look easy is often a sign of a good keeper, who doesn't have to do late dives for the camera.
I never rated Chris Woods that high, not Tim Flowers either. His main competition was imo Nigel Martyn, who doesn't get the credit he deserves.
Globally there were many other keepers that were equal or arguably better. Peter Schmeichel, Michel Preud'homme, Andreas Köpke, Thomas Ravelli, Gianluca Pagliuca, Oliver Kahn, José Luis Chilavert, Kasey Keller, Angelo Peruzzi, a young Edwin van der Saar. That's a rather intimidating list of legendary keepers.
Hmmm, same or level above big Dave? Not sure on that one

Seaman was a very good 'keeper but World Class …?
Ermmmmm , good question.
For me no , DS was in the top keepers of his time but not truly World Class .
He certainly wasn't as good as Southall at Everton possibly Martin at Palace then Leeds.
I would say Southall was the greatest keeper .
As for Arsenal's greatest , that would have to be big Pat Jennings .
Southall is a great shout.
Do you mean he wasn't as good as the elite or he just literally wasn't in the discussion?