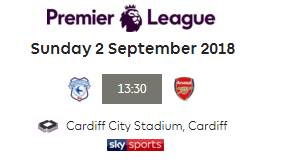 A win in Wales?
Lucas should start over Xhaka.
Xhaka will start again, but I can see Torreira starting instead of Guendouzi
tbh I actually want to see Xhaka beside him. He might actually be decent with a proper DM beside. Even though he is a bit stupid and reckless this might help him a lot.
Wonder how Guendouzi will deal with the bench. Wasn't that why he fell out with his manager at Lorient? Hopefully he understands that the competition here is different.
6-0 Auba/Laca hat-tricks. Predicting it until it comes true.
Be interesting this as its probably the first game were the opposition try to play physical against us. Much more confident that Emery will embrace that challenge than Wenger did.
Going for Mikhy to hit a brace in a 4 1 win.
22players wont finsh the game either.
9-0 to The soldiers of Unai. We are winning the league lads ! #UnaiKnows #Emery4Prez #fuckthehaters #RamseyOut
Cardiff look woefully short on quality, wouldn't be surprised if they fail to hit the 20 point mark. We'll lose at least one player on a stretcher but they'll lose the match
3-0… we'll get a late 3rd and finally keep a clean sheet… this is a welcome game at this very moment honestly. Getting to 6 points and on a winning streak before international break would be very welcome.
Auba scores 2 and Iwobi bags one.
Certainly expect us to win a side like Cardiff on paper but they seem to be holding up alright for now. Surely the lack of quality and depth will be noticed later on.
Tricky game imo. Expected West Ham to give us trouble too due to their high press which is our achilles at the moment.
If Cardiff sit deep then we got this.
Think we will edge a victory but we will concede a stupid goal at some stage no doubt.
Be careful with the set pieces because Warnock absolutely loves to hurt the opponents with this. Start Auba and fucking Lucas. Time to build on saturday's win so no more Xhaka and Mustafi.
Yeah, that's the spirit, my northern buddy!
The only previous occasion where we have played Cardiff away in the PL
"As Arsenal move 7 points clear at the top of the premier league"



At this point even if we win we wont even have 7 points in the EPL haha
Prepare to be disappointed.
Played some of the best football around that time. Even our defending was top notch.
Was working and living in Enfield at time. Flamini scored once, right?
But we would have 6 points after 4 games like Wenga last season