Brighton vs Arsenal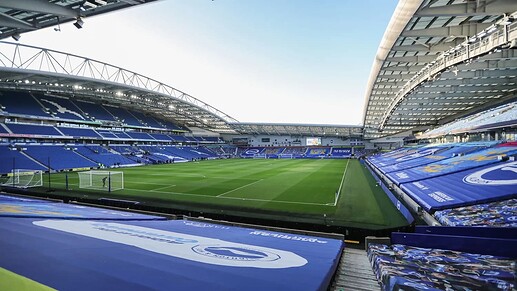 Amex Stadium

Saturday 2022-12-31T17:30:00Z


Premier League

Sky Sports
Result
Brighton win
Draw
Arsenal win
1-2 Arsenal. Will be a lot closer than this game but think we'll get over the line with the W
A must win.
We owe these bastards one, too.
When I look at the next 4 PL, they're horrid.
I'm thankful that we can send our second string out in a winnable FA Cup 3rd round game interspersed between all that.
If it was against another PL side, jeeeez
oooohhhhh i am not sure about this one, i went for draw. Brighton at home are a damn pest and they will definitely be hard work.
I just hope we can find a way to edge it, I'm gonna say 1-1 draw though as Brighton can be rather difficult.
Caicedo is apparently suspended due to yellow card accumulation. That's a nice break for us.
Quite confident going down here this season. Given us problems in the past but were simply better than them.
2 1 win and Eddie with another.
I like it. I like it a lot.
Maybe being top of the league has gone to my head too much, but I just expect us to win almost every match now. Only ones I'm concerned about are the two City games, but even then I can see us getting something at home.
But yeah, Brighton don't concern me in the slightest. I know well drop points to shit teams, everyone does at some point - like Southampton, but unless it becomes a regular thing again, I'll just carry on being chilled about every match.
Conclusion: 1-4
All I remember is the bs with VAR last year when Martinelli got the equaliser at the emirates and was chocked off for no reason.
Brighton are no pushover but I'm expecting three points here.
Everytime Saliba and Partey play, I feel confident and with Mar9 and Saka on form, I'm confident that we'll score at least 2.
This still gets my blood boiling. They never showed an angle where he was offside, since the defenders were blocking his exact position that made it impossible to draw the lines. They guessed he was offside, and ruled the goal out. Fucking cunts.
No Caicedo or Macallister for Brighton. That's a pretty fucking good midfield unavailable for them.
Yeah, that was one of those that you must've wanted not to give as VAR intervention was inconclusive.
Huge news. We should be winning. Along with Trossard these are Brighton's best players.
Both Tomiyasu and Zinchenko are training.


Let's hope Emile joins in soon.
Did a scan of a Brighton forum earlier and they were saying he was given 2weeks off after the World Cup and weren't expecting him back.
Will find out for sure at the press conferences I guess.