Get this man a chicken korma! Went from Tiger King to Tiger Emperor tonight.
Goldbridge is that you?

Some had the nerve to call him Ben Shite. Disgraceful.
Those cunts Neville and Carragher need to give Ben White an apology, those scumbags dug him out after his debut at Brentford. He's been brilliant since then. And Varane has been rubbish for United.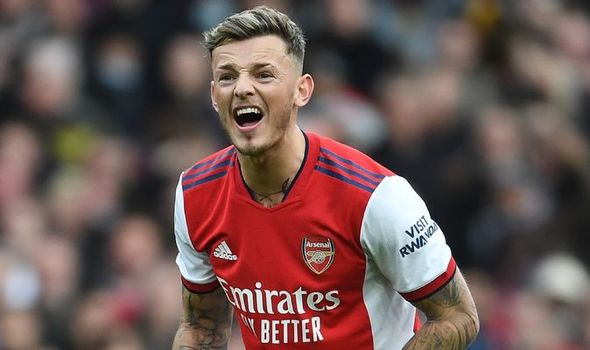 Deserved man of the match. Without sounding all brexit I'm just glad to have a British defender and goalie combo once again.
Rate his tats Phebs? Giroud replacement?
I'm not fussed about tattoos. Only reason I liked Giroud's was because he had my name tattooed across his chest
Was a rock yesterday.
Love this

He has completely buried the criticism that he can't play in 2 man center defence
He seemed like quite a timid character when he first joined but he's got a lot of aggression in his game.
He's becoming a really big player for us. Would like to see him carry the ball more though. Having a really solid midfield in front of him would help with that, he can feel secure that gaps behind are closed off when he pushes forward.
It was criticism from people who'd probably never seen him play and saw he was part of a 3 man back line.
Glad he's buried it as you said
The 3 man defender can't play in a 2 man is such Twitter grade bullshit more often than not. Ironically only time I've ever seen someone smash it is Merse on Maguire and the England set up to United.
Ben White showed leadership, concentration, commitment and calm when the team was under pressure. We had several of the team playing like captains last night. Before this season it's been 17 years since we could last say that.
Having seen several rebuilds in my time, this one gives me the same feeling as our 1987/88 and 1996/97 teams. I genuinely think we're going to win the league next season, we need to replace 2 strikers and 1 errant midfielder and we're there.
If you feel it in your gut place a bet on it now. The odds would be pretty spicy I'd have thought.
Think we've got a better chance at the Champions League or Europa League, whichever we qualify to.
Winning the league with Pep's City is almost an impossible task.
The guy is a menace.
Same people who also conveniently ignored that his breakout season with Leeds the year prior was in a 2 man backline. White already had the hype before he returned to Brighton and played in the 3.
I agree with you 100% about Ben White. Amazing performance last night and genuinely impressive. So much talk in the summer about spending £50m on him and overpaying…based on what I have seen this season he looks like a very shrewd investment. Really good partnership developing with Gabriel, and we have the prospect of Saliba returning next season and replacing either Mari or Holding.
In terms of the rebuild, I am optimistic, but next season is too soon for Arsenal to challenge City, Chelsea or Liverpool. However, I think if we have another good Summer window (notwithstanding whatever we do this winter), we can cement our place in the top four next season and I think we can be genuine challengers the season after (2023-24).
Really proud of the job Arteta and Edu have done with the squad so far.