Probably another one goal margin win that's too nervy to watch. Can we just come out and batter someone? Please.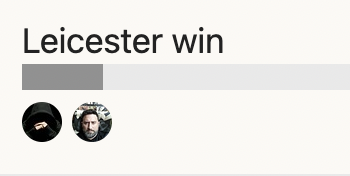 MM is calling Arsenal cunts
I really want us to put these cunts and their fans to the sword.
Hope we can smash them nice and easily
Vardy is

anyway.
Don't really care he's out tbh
Not against us he's not. He still needs to keep his rhetoric alive that we're beneath him and Leicester. That short lived reality comes to end this season and he would know it so he'd probably have scored a hattrick just to spite us.
I'm glad he's out. Though I hope Maddison doesn't try and put himself in the shop window considering how thirsty he is to play for us.
I read that he has a calf injury which he recovered from, started training then fucked his other calf. So it's his second calf injury that's now keeping him out.
Don't think we'll see him again until April after the international break.
It's exactly the same injury when you've damaged your wanking arm isn't it? You then rely on your weaker arm and it cannot cope with the rigours and stresses it's otherwise not used to. And then during a hot, sultry evening, with all the windows closed, it just happens to twang and then you're out of action completely.
Poor Tomi, sorry mate.
I hope we hound these foxes into the ground
Stressing like a mofo for the next 3 games.
Our defence has been suspect as fuck the past 3 games. Can't have that against Leicester and Liverpool.
yeah kind of forgot - in the 3 games against trash attacking teams, we let in 4 goals (Brentford, Watford, Wolves), although xga was just over 3.
Leicester without Vardy and his countering ability shouldn't be any trouble - they have been pretty meh all season and barely squeaked by a cooked Leeds side.
Goes without saying that we need to do these cunts in tomorrow. A win and we are 6 clear of Spurs with a game in hand and 1 up on United with 3 games in hand.
yeah right now ManU are on pace for 66 points and Spurs 63-64… we have some breathing room, but games like Leicester need to be 3 points.
Ahh back when Spurs were good.
Leicester we should be able to score a few ourselves so we'd probably get away with it.
As for Liverpool yeah, scoring a goal or two will be problematic.