Les invincibles

Good old days, now we start the game knowing that we'll at least concede one goal.
Would have been interesting to see

The talk in the other thread had me thinking of 99' Arsenal.
This NLD win took us top with *checks notes…only 2 games remaining. Click play to see Anelka making mincemeat out of Sol Campbell and an uncharacteristic (

) David Seaman error *cough cough *. Also, the visuals are atrocious. Also DB10


Goal of the season

Aubameyang saying thank you like he deserves the credit

Fantastic team goal, but if you want to single out a player it's Özil.
Lol thought it would have been Auba vs the scum in December.
Forgot about this goal
Forgive me if this is a repost. I simply couldn't be bothered to scroll up to May 9th to see if anyone had posted this.
Thierry Henry, Pires, Sol, Parlour, Merson…Hamilton, Redknapp, Carragher
This video is originally from 2015 so you would be scrolling up for quite a while

Good vid tho can remember it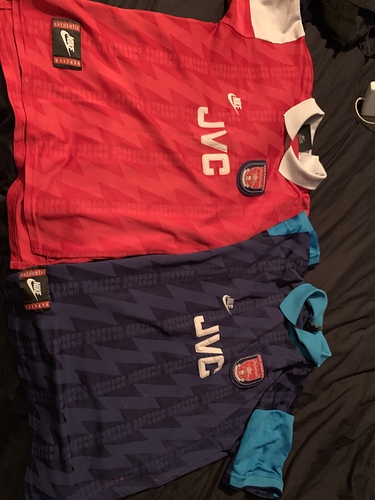 Found these two classics in my loft today. Can't believe my mum packed them up in a black bag and left them to rot for a couple years.
Own up, which one of you created this account?
@shamrockgooner it was you wasn't it?
I wish I was that clever.

Looks like Blackpool. We played them in the league cup last September I think
Played the offside trap beautifully there imo