20 years ago today was the start of our 49 game unbeaten run when we beat Southampton 6-1.
What a fucking week that was

"final ever match played at Highbury". Still tinged with sadness, that.
Happy St Michael of Thomas day everyone
The greatest league finish in the history of English football
Make sure everyone knows, and you text every scouser to remind them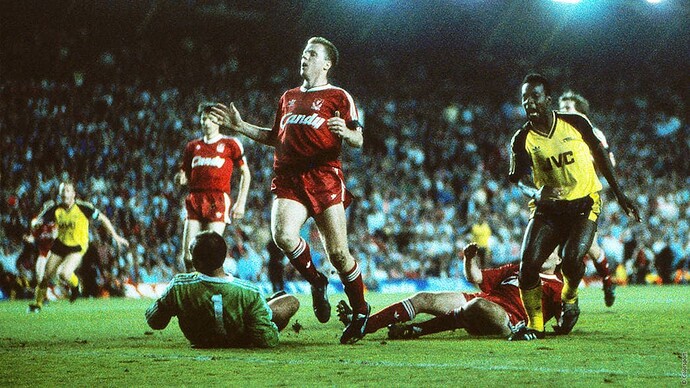 The Brian Moore commentary for the end of that game
"Brian Moore: The clock shows two minutes to go. Arsenal fans imploring their
team with "come on you yellows", they want that second important goal and
suddenly the break is on, Beardsley leading the charge. Aldridge in a perfect
position on the far side, but Lukic is there, he'll want to get the ball
forward quickly. Richardson is down with a leg injury and he's still down and
Arsenal want to go on. 41,783 is the crowd here at Anfield and not a soul has
left before the final whistle you can be sure. Treatment for Kevin
Richardson. Unless there is an amazing and dramatic twist now it looks like
Liverpool David.
David Pleat: Yes I think they've set out, they've been very professional
tonight, they've made certain of doing their job, they've defended very well
in the second half when Arsenal have powered forward in search of the second
goal. Barnes who has probably been as creative and as brilliant player for
them at times this season has been mainly defending this half and quite happy
to do so. And that will all be worthwhile if in a couple of minutes time they've won the Championship.
Brian Moore: Well there's John Barnes saying "come on" as he shouts to his
team mates. John Aldridge over there. Lets just keep it going for a few
seconds more. Richardson is down again, presumably he'll have to go off and
remember Arsenal have both their substitutes already on. One minute to go.
McMahon has got the word from the Kop obviously. But nobody knows quite how
much time the referee will add on. But there's a real competitor, a man that
really has earned a Championship medal. The faces of the
players are something to behold at the moment.
David Pleat: I think in a way if Arsenal are to lose a Championship having
had such a lead at one time its somewhat poetic justice that they have got
the result on the last day even if their not to win it.
Brian Moore: They would see that as small consolation David, but has you can
see we are well into time added on. Just a few seconds away now for Kenny
Dalglish unless Arsenal can mount something absolutely spectacular in the few
seconds that remain. Nichols in there, Barnes is in there, Adams has stopped
him, Barnes has beaten Adams, Aldridge is waiting at the far side, Adams is
after his man but Barnes will not be denied, yes he will by Richardson
moments ago down and injured.
Arsenal come streaming forward now in surely what will be their last attack.
A good ball by Dixon finding Smith, for Thomas charging through the midfield,
Thomas, its up for grabs now! Thomas right at the end. An unbelievable climax
to the League season.
We're well into injury time. The Liverpool players are down, absolutely
abject! Aldridge is down, Barnes is down, Dalglish just stands there, Nichols
on his knees, McMahon is on his knees, suddenly it was Michael Thomas, bursting
through, the bounce fell his way, he flicks it wide of Grobbellar and we have
the most dramatic finish maybe in the history of the Football League. The top
two challenging on the night, and the title possibly decided in the last
minute of the whole season, but wait a moment Whealan turning it in and
Thomas gets it back to Lukic. We've played nearly two minutes of injury time.
George Graham would love to get out there and play himself and so would Kenny
Dalglish, its agony for them and for the fans, as Liverpool now for so long
it seemed in command. Except! The final whistle. Arsenal the Champions. A
momentous occasion this for Arsenal, coming here requiring a two goal lead
and snatched it in the most dramatic fashion in the last minute of the game.
A hammer blow for Liverpool, for the likes of John Barnes who over the season
has produced football of the most majestic standard. David O'Leary helps
Aldridge to his feet and Aldridge wasn't too happy with that. The Kop bravely
and gamely applauding their heroes. But the winners are Arsenal who have gone
over to their fans. And they came it seems without a chance, but the Gunners
have kept their powder dry until it really matters. They've denied Liverpool
the League and Cup Double, Arsenal the Champions for the first time since
1971, the ninth time in their history, the first team to win by two goals
here at Anfield since 1986, a super human effort against the odds and
achieved with that goal in the last minute by Michael Thomas."
Really this moment in history deserves its own thread!!
Coughs. My yearly repeat post observation coming up here.
That trophy should not have been downgraded to the championship winners.
We threw away a twelve point lead to let Liverpool back in and all they had to do was not lose.
So If people want an example of a team bottling it, just have a look at Liverpool that season.

There'd never been a title decider before involving the two teams that could win it and because it was the last game of the season it was also the first time a league title decider was shown on live TV.
We had to win against the best team in Europe, by two clear goals and did it with almost the last kick of the game.
Pundits go on about the Man City title win being the most exciting but it's not even close to this.
The media seem to forget that there was football before the PL and clubs like Chelsea and Man City were languishing in the lower divisions.
Not a single thing Manchester City have ever done has been exciting lol
TA#6 runs the twitter account, despite basically never actually logging in here or posting lol. So I don't think he took the photo you posted here.
If you google "michael thomas anfield 89" it's literally the first image that comes up, so I think that's the explanation.
I know mate, was joking anyways lol

That was such a good afternoon. Probably the only time I can remember Arsenal showing up in a final of that magnitude and blowing the opposition away so thoroughly.
Also, that Sanchez goal.
One of the best fa cup final goals of all time. Shay Givens face afterwards, as if to say what chance did he have with that.