I know it's been explored elsewhere but I thought it would be fun to see where you fanatics think the blame should land for our current plight as a club. If you'd like to make ur own pie chart and contribute here's the link https://www.meta-chart.com/pie#/display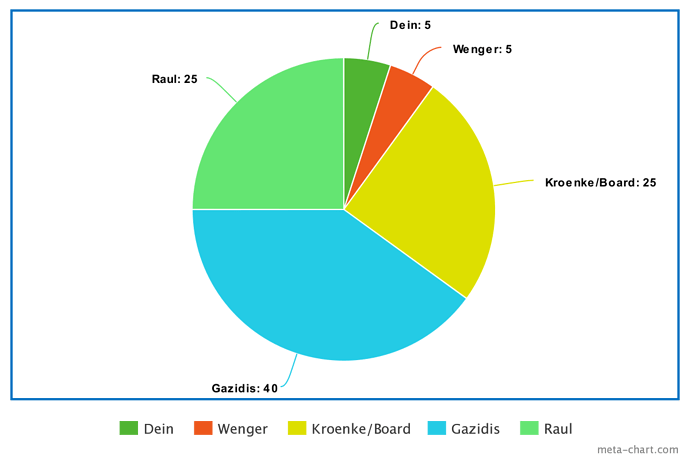 Dein 5%:
Dein selling out is kind of the catalyst for all of this. Someone with more knowledge of this might be able to comment more, but if Dein hadn't sold out do you think we'd currently be owned by someone who doesn't have much passion for the sport? Also if he'd never have sold do you think that we'd have moved into the Emirates? A new stadium was imperative but in hindsight I think that renovating Highbury would have been cheaper and the right move in terms of club identity.
Wenger 5%:
I'm sure many of you will place much more blame at the feet of Arsene, but to me even tho he made mistakes and had faults, those came from an honest place. He loved the club and wanted nothing but success for the club and fans. He brought that of course until our stadium move and as he acquired more power his low risk boomer mentality did hold us back. I've maintained that if he'd been paired with a true talent evaluator I think we wouldn't be in this situation to begin with. Which leads me to my next slice of the pie, the ppl who could have constructed the club properly.
Kroenke and the board 25%:
Having an aloof owner and board has been the death of the club. I fought it for a long time because Kroenke isn't the decision maker, but he's allowed this to fester. A more savvy football man would have cleaned house ages ago, and the old saying is true in this case…a fish rots from the head down. The board just seem clueless and are there only really to protect their interests and dont really give a shit what the product on the pitch looks like, as long as they keep their cushy positions.
Gazidis 40%:
And now on to the guy that's been making the big decisions at the club. Wenger for as uninspiring as his policy was between the years of 2007 - 2015 or so, at least had shit under control, achieving the minimum to keep us a top club. Top 4 finishes, some domestic cups, which imo is admirable based upon the resources at his disposal. However around 2014 or 2015 is when we started to emerge from the financial restrictions and Gazidis was becoming more influential in the decision making. The guy just doesn't know football. He actually had some decent ideas like using analytics, but he had no clue how to apply that and subsequently introduced Stat DNA. Making some of the worst signings in the history of the club, just flushing money down the toilet. Of course again, clueless on who to hire to replace Wenger, clueless on the kind of structure we should have, hiring Sven only to handicap him. Truly a headless chicken, and this guy was running our club, easy to see why we are in this rut. We are incredibly fortunate to be rid of him thank fuck for that. Lurd knows with our owner, if Gazidis hadn't have thrown in the towel, he'd probably still be here.
Raul 25%:
Maybe I've given him too much of the blame here considering he's only been here a couple years or so, but so far it seems like his quest for power means more to him than making the club a success. Also if reports are to be believed and he wanted to keep Emery, I fear for future prospects with him at the helm. Recruitment wise it also looks like he's made some major errors, Pepe for 72m seemed like a coup at first but now it just looks like poor scouting. My biggest issue with him is forcing our one bright spot out of the club, Sven. And its maddening that he could make a big time hire and stop the bleeding, and yet we clearly either have no clue (unlike spurs who sacked Poch and had Mo in the door 48 hours later) or are being cheap, or just maybe with him at the helm we are a rudderless ship. We need a strong character at the top who cares about winning, and I'm not seeing that at all from this guy. Also to be noted he was hired by Gazidis so there should automatically be question marks.