United are so fucked

This will make them stronger imo. That Pellistri kid looks a better prospect than this twat.
As poorly as they handled the Mason Greenwood situation, surely they'll handle this situation better, right?
If Partey gets cleared and the ladies can't take it any further in the courts than we're going to be in a similar situation where they sell their stories to the sun etc. Gonna be a complete shit show.
The case is dragging on for so long, Partey will have long retired from football and the CPS will still be contemplating what they should do.
Purely from the financial POV, Partey is nearing his contract tenure, whereas Antony has just been bought for 90m.
It's a second massive asset hit for United.
Its not looking good bruv
One of them signed some kind of NDA, not sure about the others.
I swear Man United have had bad headlines every day since they lost to us.
Antony doing a whole television interview…oh my. Can't be bothered to post all the quotes, but he's tearing up in this image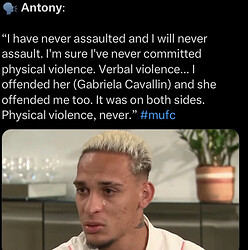 Two more women have come forward claiming they've also been assaulted, so he's got problems on top of problems
It's likely a bad translation but "I'm sure I've never committed…" Doesn't really come across very well.
kinda like 'if i remember rightly i dont think my fists were being used, everything was such a blur'
Oh man, this will actually force Tan Haag to play better players in Pellestri & Garnacho
Pellistri has zero goals and zero assists across 30+ appearances for Alavés and United. He has shown nothing.
Garnacho doesn't play on the right and Rashford has always been terrible on the right.
Ten Hag just threw Sancho under the bus last week.
Diallo is talented but small and didn't produce at a very high level in the championship. Also hurt right now.
I think they'll just play Mount on the RW when he returns.
First Murder Mason, then Sancho, now the Fidget Spinner. What a mess.
If only they retained Greenwood, then they could have coped with losing players to domestic violence allegations.
Their season is unravelling sooner than I thought it would
What a shame