Yeah our horrendous away performances need to drastically improve if we want 4th
Cardiff, Fulham and Huddersfield are down for me now.
I do love how Fulham have spent more than 100 mil last summer and are getting relegated

.
I think saturday would have confirmed it's all the Europa League on which we should put the focus on. If we look at matches on their own that might be where Emery's strength lies. A bit like Benitez during his stint here (apart from the fact that Benitez was terrible at buying). Although tbh Chelsea isn't on their best form either.
Shows you how week on week the landscape for 4th keeps changing. Only days ago even @Aussiegooner was confidently saying we're heading for 6th and now we're up to 4th

I mean of course, there is always still that possibility of finishing 6th, but it really shows, no matter how bad we look at times, teams around us are also struggling for consistency.
You're not wrong but come Sunday night we could well be back in 6th and facing up to our latest away day mauling

But you're right it is a rollercoaster ride
If we get a draw on sunday we are gonna finish 4th, imo.
Still think united are stronger than us. Leicester could be a bit tired sunday if they have to chase this game. Overall united fourth for me as of now.
If they could beat PSG that may cost them a bit though.
Now at the end of February and things starting to shape up nicely going into the final 10 games of the season.
Liverpool and Man City one point apart, now well clear of Spurs. Spurs now being dragged back into the top 4 CL spots, with 3rd-6th covered by 7 points, but Chelsea do have a game in hand.
While at the other end, Huddersfield, despite a rare win are 13 points adrift from safety, as everyone knows are long gone. Fulham losing to Southampton this evening leaves them 10 points away, with a horrendous goal difference. Amazing to think all that money they spent pre season with many tipping them to do great things have been so poor this season. The last spot looks like it'll keep chopping and changing all the way until final day. Although on current form, Brighton have been sucked into it and looking most in danger right now.
Most of Fulham players are on loan though, right?
When you look at the current GD of every team, the 3 clubs that deserve to go down absolutely are Huddersfield, Fulham & Cardiff City.
I made these predictions at the start of the season, which were fairly accurate, and nothing I have seen has made me change my mind.
Honestly this away game problem is hard to legislate for. We even went into them with a lot of momentum this month and still proved everyones worst fears were the reality. If we couldn't manage it after that run the situation is extremely bad.
I think the predictions for next season will incorporate a much more thorough acceptance that this problem is not going to be resolved. There surely won't be a complete turnaround in our away form in one go after this seasons performance.
With the away record that we have we're fortunate to even be in the conversation for 5th/6th let alone Champions League.
Next year I have a feeling home form isn't gonna save us even if we do somehow manage to have a better squad. 7th could happen.
Fuck FA cup would have been better than the Champions League, let's pray like fuck the scousers don't bottle this.
League season over, how did everyones predictions fare?
Managed to get the top 2 in correct order, but had 3rd-6th down the wrong way round

Only Watford wrong in relegation, who did a lot better than I expected.
my league predictions weren't too bad. Top 3, right. The 3 teams I picked for relegation were all rubbish so no howlers there either.
Thank fuck I got these wrong.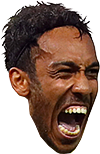 Called the golden boot, the top 2, Huddersfield and Cardiff going down and potentially the Europa League haha
I got the top two right.
I also got the bottom five, although not quite in the right order.