Alright.
Vienna is needless to say beautiful and majestic but if you are not so much into architecture, art or music, it can get boring after 4 days. Fortunately Danube river takes care of those days.
Commute -
Don't waste your money on Vienna City Card or Vienna Pass. One provides discount and one provides free access to attractions but the duration of the card is so less that you can't possibly see all of the attractions and get the ROI out of it.
Just get a weekly Vienna public transport card for 17.1 Euro, which ofcourse depends on how long you are there for.
Well connected city. Google Maps is your friend but it also makes you walk if walking means less time. Check the alternative suggestions as well, it will just cost you 5 mins extra.
Alternatively you can save money by using cycles. Citybike Vienna is a great initiative. The app is available for you to use. Website for registration. 1 Euro registration and then every ride, your first hour is free which is enough to get from one attraction to other.
Also the best way to see all of Vienna.
Weather -
It's mostly sunny(6-17 degrees) but carry an umbrella.
St. Stephen's Cathedral
Massive and worth the title of Cathedral. I would start from here.
If you don't mind spending 6 Euros, you can get to sit inside and see the craft unimpeded by people & bars.
There is a south tower you can go to 6 Euros and check out other locations you may spot you want to visit. Warning - It's very small space, most likely already filled with Chinese tourist if you are not early. You don't get 360 degree view point and so on.
I would say if you have to spend 6 Euros, spend it to sit inside.
For an alternate spot for Top view of city, There is a 25 hours hotel(free or buy a 5 euro beer) which you can use to check the top view or Donau Tower (I don't know much about this one) or you can go for wine tour; an american showed me her pics from there and the view was really good.
St Peter's Church is really good. I loved sitting there.
MuseumQuartier is really good spot to begin one of your day. Go to lesser museums or exhibitions to get warmed up and then go for one or both of two big ones - National History Museum & Art one right opposite.
Prefer going on Wednesday because it is opened from 9am to 9pm. So if you are bit exhausted & need a breather, you can go out and come back refreshed and still have ample amount of time. Quite honestly if you are not a fanatic, one museum is enough.
The descriptions are mostly in german, so you can't understand them so after a bit you just look around waiting for Dinosaur section to arrive haha.
Edit - Oh, carry 1 or 2 euro coin with you to use the luggage section. You get the coin back
Then there's Palaces which are magnificient. Opera house and all that; which I didn't go because at this point I was saturated with building beautiness. So I am clueless for those buildings.
Danube River
Loved it. My favourite part of the city. I used the aforementioned Citybike(should have rented. cost me 11 euros…yikes) and cycled 4 and half hours along the banks. The river water wasn't too cold as well at noon so I took a quick dip. I recommend it.
You don't need to do it as extreme as i did because on my way back, I noticed this strip on the map.
DonauInsel
There is a station right in the middle.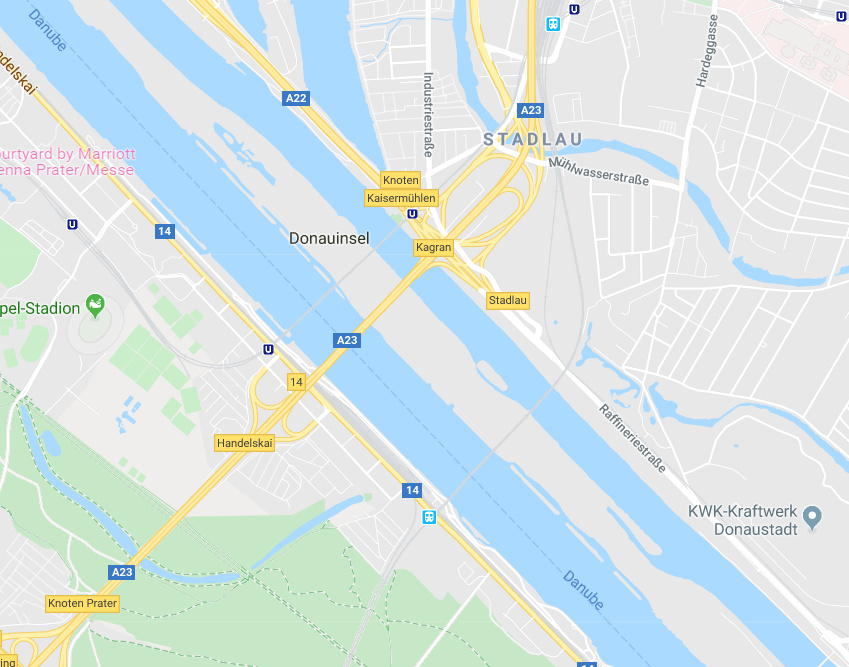 That's a really beautiful strip of land to have a stroll or cycle around and watch the sunset from.
Alternatively, you can stroll by Schwedenplatz.
Cafe
I tried Ulrich & Aumann. I liked them.
There's Burgasse 24 recommended too.
Suggestion
Dress well, especially if brown. Austria has some refugee & Turkish community issue. I looked shit at the end of my cycling trip and I could sense the reservation.
once I got scrubbed up and represented myself proper, I was able to get friendly responses.
I might be overthinking because my airbnb was in a drug hotspot zone. I actually saw a deal happening

Edit - I didn't notice you mention you are just going for a weekend. What an overkill of a post!