User cards
The user card is a quick way of learning more about a user. It shows up when you click a username or avatar. It shows the cover photo and a slightly bigger avatar along with useful information, such as: last activity, join date, latest badges, location, number of posts in topic (if you're inside a topic at that moment). Click on my avatar/name for an example. They're quite neat!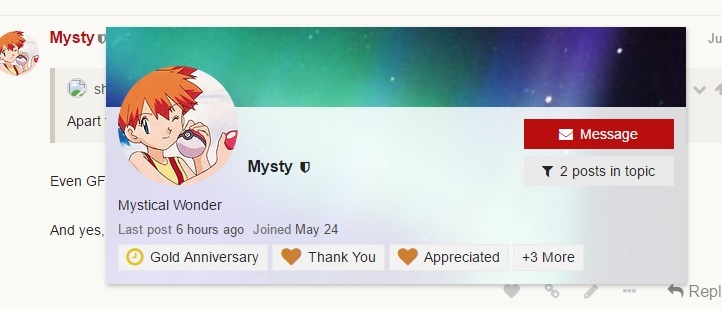 Setting up your user card
Setting up your user card is really easy, just click on your avatar, top right next to the menu. Click the little cog wheel which will bring you to the settings page. From there it's pretty straightforward. Upload a user card background and avatar and fill in the fields you'd like. Save changes, go to a thread and click your own name, ta-da! Witness your magical user card.
Questions or need help? Shoot!