Shit op to match the shitshow I expect here.
Prove me wrong you fucks!!
Not even a poll? I want to vote for Arsenal to win! I'm feeling optimistic

The last NLD* at the Lane deserves more of a build up than this surely!

Massive prize on offer here too, if we can get the win i think we can go onto win the 4PT. and also some insane bragging rights
*probably
If we beat them and United we're basically 4th.
To end their title hopes and resurrect our top 4 hopes, we really should want to win this.
We're gonna win 2-1 and end their title hopes! I have a good feeling

Match details since sham couldn't be arsed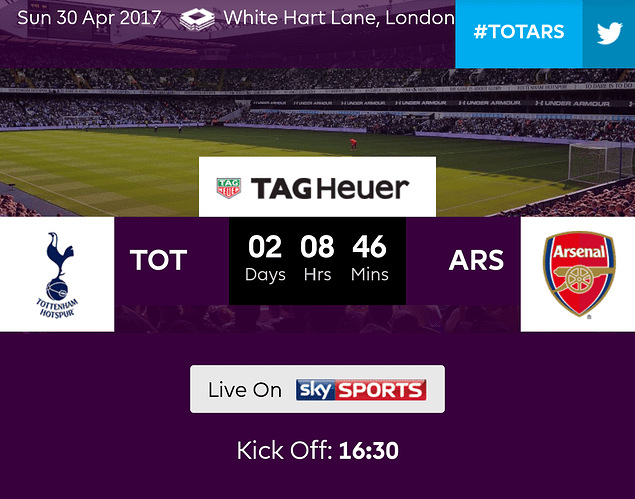 I hope we really sit deep and try to contain in the early stages, but we'll have to watch out for their long shots, Son ffs. I suspect Wenger will go with Giroud up top in a bid to beat their press with long balls, fingers crossed it'll be more effective than in the semi-final, and that Xhaka doesn't crumble under their pressure.
                Cech

        Holding Mustafi Gabriel

       Oxlade Xhaka Ramsey Monreal

             Özil Alexis

               Welbeck

Bellerin unlucky not to start.
Cant see us winning this sadly
Going to be a shit weekend with the build up and then the agony of watching it
The fuckers better turn up on the pitch
Really worried what a spurs win could do for them in the title race above anything else. If Chelsea dont win sunday a spud victory might be the catalyst that galvanises them forward.
Atmosphere should be toxic and hope the players embrace that.
Thank fuck we won the semi or think wed have been broken as a club facing this.
Need to tap into every facet of Arsenal dna for this. Tactics are important sunday but desires even more. Please win, your on a mission.
Spurs 2-0. 15-2-0 record at the lane and won 8 league games on the bounce. Would really love to be proven wrong… COYG.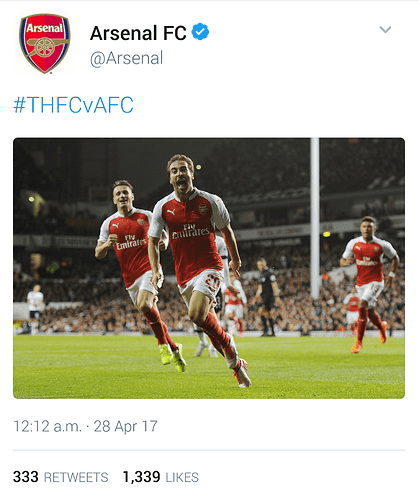 https://video.twimg.com/ext_tw_video/857734629763289088/pu/vid/640x360/ySHriEz8M_Izl9W4.mp4
Best NLD in recent times. Still can't believe Flamini scored a goal like a peak Zidane


What ever happens, we mustn't lose this.
I'm going for a draw.
The only advantage we might have, is that the pressure is more on them than us.
Yep as I thought, no Mustafi for this game, he is out for 2 weeks. Kos is, "60/40 – 60 that he plays." Rob Holding is going to be leading the backline

If you could attend it i am sure we would be win well

The best we can hope atm.
Nah my 100% record only applies to the FA Cup, I've seen us lose many (too many) in the league.