I know this thread is not the right place but really need women to step in lot sooner than they do.
Dude electrocuted and took an axe to Esme Bianco. What other red flags do you need?

Well…um…

…yeah. Moving on.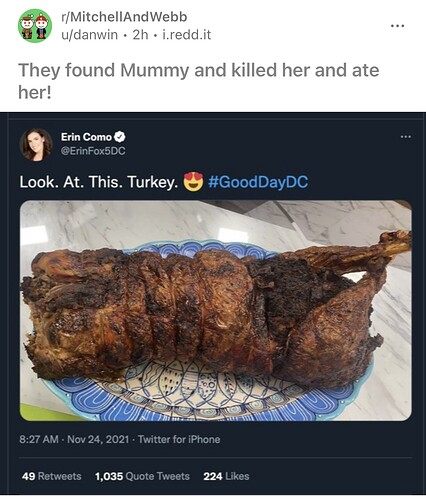 apart from actually looking like shit which it self is funny, the Peep Show reference makes it all the better.
@shamrockgooner and @Cristo look away now guys.
Another old but gold:
Husband comes home in tears from the doctor's. "I've only got till midnight to live," he says to his wife. Breaking down herself, she says, "I'll do anything for you." Hubby says, "I want us to be like we were as youngsters. Let's make love like never before." "Okay," says the wife, and up the stairs they go. When they're done, hubby looks at the bedside clock and says, "Oh no! It's 11 o'clock! Come on love, just one more time."
"Bugger off," says the wife, "I've got to be up for work in the morning. You haven't."
That was a close one





That squirrel is nuts.

I feel like he had it under control the entire time tbh.
£1000 pound fine aswell for trespassing
yeah. No guts, no glory.
Fair play, squirrel.
Leftovers after the I'm a Celeb contestants had to be pulled out