What are the thoughts on Ange at the helm @Stroller ?
All good mate. Fans all onside it seems. Very positive football and good to watch.
Going off what my season ticket holder brother says.
I can tell you he's done incredible to have Celtic competing back with Rangers. They were an absolute shambles last season and needed a hard reset of the squad. He's done it in two transfer windows.
If they win the league back so soon. He'll go down in folklore


Does Hatate score bad goals?

Form the keeper been in tonight as well. Took a great one to beat him.
Momentum is with Celtic.
I've watched Rangers last two games now and this is still Gerrard's team and they can't play the way the new manager wants. They don't have the players to play like this. This is an attack heavy team with wing backs they can't sit back




Ffs
Hope Gio does it with the 'Gers this season.
This sums it up well.
I think GvB will end up a terrible appointment. He would be lucky to see the season out if this continues lol
That was his only lost so far I think?
However I'm always suspicious if a coach find themselves coaching in China so early. That shouldn't be happening.
Yeah but its been coming. Performances have been dreadful.
Celtic would be the only team to be able to do this to them tbf
They're only sorry because of the backlash. This isn't genuine at all and it's probably too late to undo the damage
Yep, Board and management needs to go imo
It'll be enough for some but not for others. Going to have to start a rebuilding of trust and that takes time.
What a story and season this is turning out for Arbroath. They just beat title favourites Kilmarnock for the second time this season to go 4 points clear at the top of the league. Watched the game tonight on BBC Scotland and they played excellent. Great atmosphere from both fans aswell.
This is the league table. The other 9 teams are full time clubs. Arbroath are part time.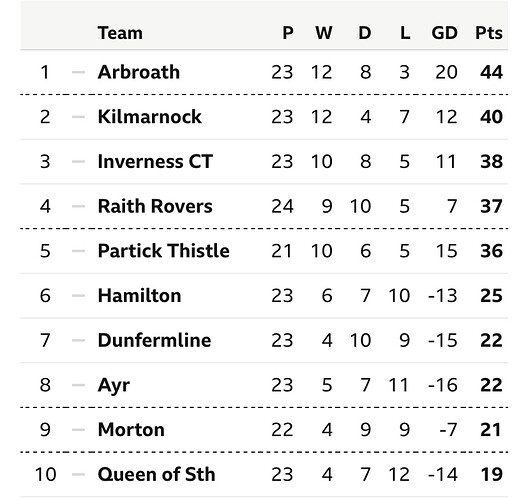 If this isn't geoblocked for you seen this cracker on my timeline from the ex rover
Seems to be doing real well so far there.