I've been doing some research on how to improve the - already great - user experience of mobile browsing, on OA. At the top of my list was being able to receive notifications of certain activity like: replies, quotes, likes and private messages. Turns out it's possible, and very easy!
1. Download the Discourse App
Basically all you have to do is go to the App Store (iOS) or Play Store (Android) and look for 'Discourse'. Install it and make sure you accept when it asks for permission to send you push notifications.
2. Connect to OnlineArsenal
Once you've done that you need to add OA to the list of sites, just tap on the '+' and add onlinearsenal.com. A connect button will appear, just tap that, log in at OA and click authorize. BOOM, you're in dude.

3. Check your notifications
You can see your notifications by clicking the little bell, top right in the app. Tapping on notifications will take you to the website (external link), so you don't really browse in the app. It's just a little app that sends you push notifications and directs you to the right page. Neat stuff if you ask me!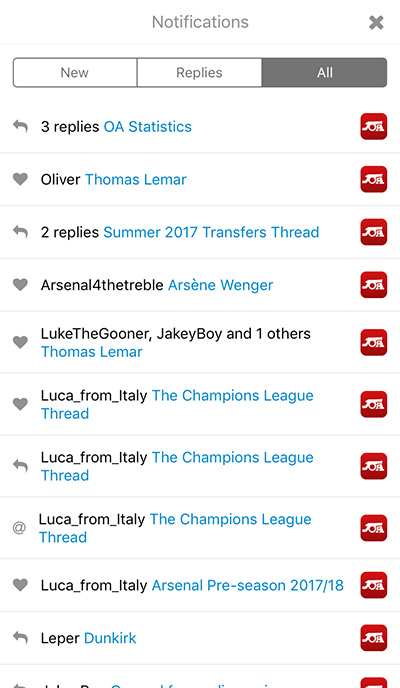 Enjoy!