Seeing those fullbacks is actually making me uncomfortable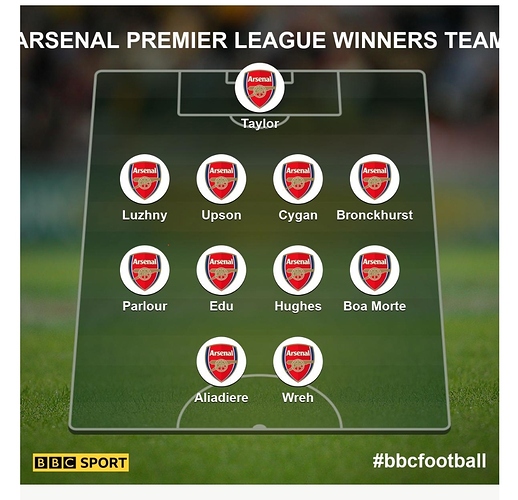 I think we can all agree this pretty much closes out any debate in this thread.
My favourite is Cygan. Basically because he caught so much stick for being awful when he just happened to be a fairly average player playing in the best Arsenal team ever.
Some of the defenders we've had since make Cygan look like Maldini.
FINALLY HE'S MASTERED FULLBACK PLACEMENT
Why are there so many psychos here.
Bergkamp and Pires here are triggering me to fuck
Putting Bergkamp in midfield is an immediate disqualifier

Don't blame me blame the bastards. You can't put Henry on the wing in a 4231, but for some reason you can put Bergkamp at CM and Pires up front.
That's a good line up with a plenty of goals and a solid midfield and defence but probably needs a wide player.
I think Vieira and Petit were the best CM partnership in the PL so with Campbell and Adams behind them, you probably could replace Gilberto with a player like Pires and that would be a great team.
I wanted Pires in, but I refused to have him as a CM.

I mean, he did play there on a couple of very unmemorable occasions