Use this for all MMA related stuff.
Holly Holm suffers a decision defeat to Valentina Shevchenko. Very well deserved victory for Shevchenko. Impressive counter striking and recovery from being knocked down early in the first. She scored plenty more significant strikes and a few more takedowns. Was a decent fight to watch.
Number of top quality competitors in the women's bantamweight division continues to grow.
Nunes, Tate, Shevchenko, Holm, Rousey. More to make their mark soon that's for sure. Long may it continue.
Didn't even know this thread existed.
Almost 24 hours until the UFC 202 main card begins and I'm extremely excited. I don't think there's ever been a UFC fight that has been built up better than this McGregor Diaz rematch.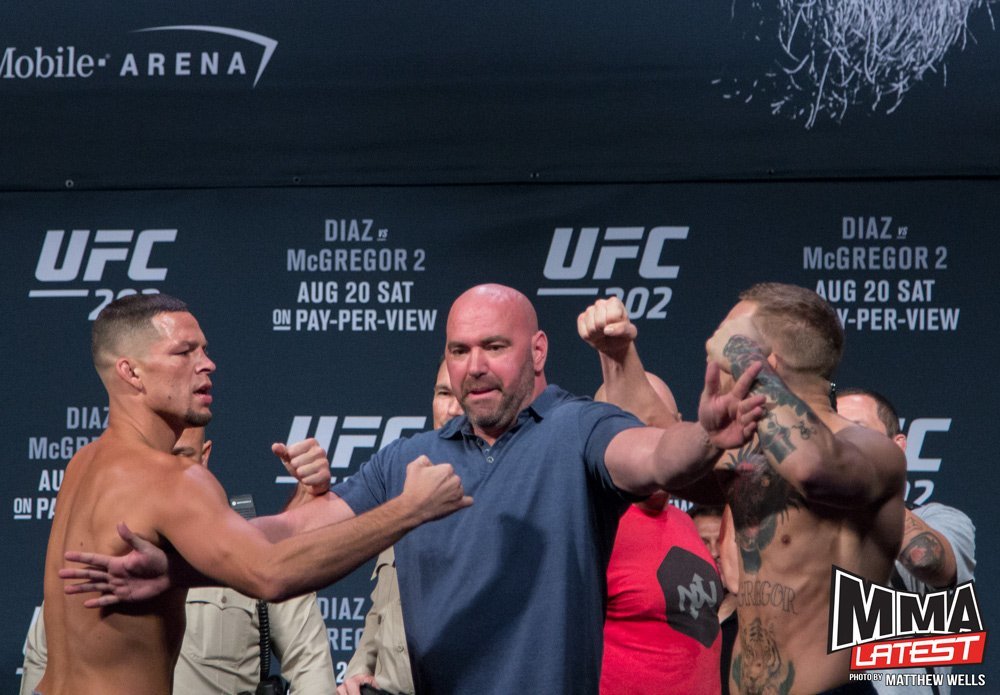 How do you see it going down @Burgundy? I feel like it's really tough to call.
My feeling is, despite the game plan Conor will go in there with, he'll quickly revert to type and try and blow Nate away, and Nate's chin is far too solid for that to work.
And if that happens, it'll end up being a repeat of the first fight.
Definitely is tough to call, I can genuinely see either fighter winning. But I'm gonna give Diaz the edge mainly because I don't think McGregor has it in him to use his superior speed to get in & out of distance for 25mins and I see him finishing Diaz unlikely. So I agree with @Jules, McGregor will try to blow Diaz out and he'll fail. Diaz will outbox him from around the 3rd round onwards and possibly submit a tired McGregor again, otherwise a points win.
SPOILER
Expected result if it was going to decision. No way, Diaz was going to outpoint McGregor. The only way I saw McGregor winning anyway.
Was a strange fight, and completely different from the first.
From the very first round, me and my mate were saying Nate didn't look right. I couldn't quite put my finger on it, but he wasn't moving well at all. Yes the leg kicks were making a difference, but it was more than that.
So it was no surprise to hear that he came into this fight with injuries. So hopefully we'll get the trilogy fight to settle it.
Thought it was a great fight and a really great event overall. The W on the record is all that matters once that final buzzer goes but mcgregor is probably a little disappointed in how he actually got the win.
Rumble is the fucking man. Can Cormier handle him a second time round? I'm not so sure he can.
Really enjoyed the entire show.
Didn't expect McGregor to use leg kicks, he never uses them! Other than that, I thought my prediction was quite close but McGregor somehow found a 2nd wind to win that 4th round. I'm down for a trilogy, was an extremely exciting fight and the build up was incredible.
Can't believe this guy was once fighting at 170

The build up to this bout was the most excited I can remember being for a sports event in a long while. First fight was gripping and this fight was no less spectacular and engrossing. Incredible fight. Sensational performance by both men.
Nate Diaz should have disclosed his injuries earlier. Delaying by one or two UFC'S would have been fairer for everyone involved than fighting injured tbh.
Was he really injured or was it just the usual shit fighters say when they want a rematch?
Would be a nice title contender eliminator. If McGregor doesn't get his shot immediately after the rematch against Aldo (which has to happen, even if he doesn't want to go back at 45).
So how badly is CM Punk getting pasted tonight??
Pls tell me it won't he too bad…
Have you seen any footage from the pre fight conference yesterday? CM Punk's weight cut must have been real hard because he looked like something from The Walking Dead.
If Mickey Gall has any future in the UFC it shouldn't be too difficult of a fight, Punk in his training footage looks poor.
McGregor is running this thing. He just got the main event for UFC 205. I hope Alvarez losses the belt for the call out and chokes in the extra money he makes from this fight.
If McGregor wins (very good chance he will do so) he'll almost certainly never defend his FW belt. The trilogy fight for the championship against Diaz would be huge. If he gets the win I can't see them ignoring that as his next fight. Khabib and Tony Ferguson wont be happy bunnies if that happens…